Al Qaeda chides Iran over 9/11 'conspiracy theories'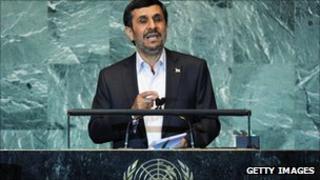 Al-Qaeda has accused Iranian President Mahmoud Ahmadinejad of spreading "conspiracy theories" about the 9/11 attacks in 2001.
Inspire, an al-Qaeda-linked online magazine, described Mr Ahmadinejad's controversial speech to the United Nations last week as "ridiculous".
The Iranian leader said he believed the World Trade Center towers could not have been brought down by aircraft.
The article said such a belief "stands in the face of all logic and evidence".
Entitled "Iran and the Conspiracy Theories", the Inspire article said Iran used the theory "as a rallying call for the millions of Muslims around the world who despise America".
Iran "is a collaborator with the US when it suits it" nonetheless, the Yemen-based author said.
There have been sharp sectarian tensions between mainly Shia Iran and Sunni Muslim al-Qaeda - although are both fiercely opposed to US influence.
Mr Ahmadinejad's speech last Thursday triggered a walkout from the General Assembly by diplomats from more than 30 countries.