Bahrain upholds life sentences for Shia activists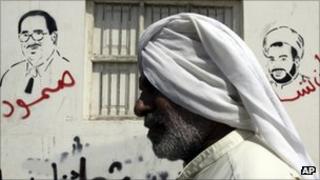 A military court in Bahrain has upheld life sentences for eight Shia activists convicted over their role in protests earlier this year.
It also upheld sentences of up to 15 years on 13 other activists.
Security forces crushed a protest movement calling for more rights for the country's Shia majority in the Sunni-ruled kingdom.
However, skirmishes are reported regularly as protesters try to keep their movement alive.
The 21 suspects were convicted in June for "forming a terrorist group to change the constitution and its monarchical system", as well as inciting sectarian hatred, organising unlicensed protests.
Authorities also accused them of collaborating with "a terror group colluding with a foreign country" - in an apparent reference to Iran.
Bahraini opposition leaders deny any ties to Iran and accuse leaders of using these allegations to detain Shia activists.
Seven of the suspects were sentenced in absentia. Bahrain's official news agency, BNA, said those sentenced could still appeal in a civilian court.
International human rights groups have condemned the convictions. They have also raised concerns about the torture and abuse of detainees.
Bahrain's Shia have long complained of systematic discrimination.
A wave of mostly peaceful protests swept the country in February and March, but they were put down by force by the government, which called in troops from neighbouring Gulf states.
On Saturday, Bahrain's Shia opposition boycotted by-elections held to replace 18 Shia deputies from the main opposition movement, Al-Wifaq.