Yemen unrest: warplane shot down by tribesmen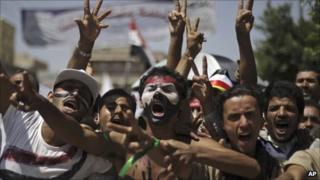 Armed tribesmen have shot down a Yemeni government warplane that was targeting their positions north of the capital, Sanaa, officials and witnesses say.
Meanwhile, tens of thousands of people have demonstrated against President Ali Abdullah Saleh in the capital, Sanaa.
Mr Saleh, who came to power in 1978, has faced months of protests against his rule.
He returned from Saudi Arabia last week where he had received treatment after an attack on his compound in June.
"We shall not rest until the butcher is executed," some of the protesters were quoted as chanting.
Others shouted: "Death, death".
President Saleh has repeatedly shied away from a deal for transferring power in Yemen, and his return to the country has angered and frustrated demonstrators.
The Financial Times has quoted diplomats as saying Mr Saleh may have tricked his Saudi hosts by returning to Yemen without telling them.
Raid on base
Yemen has been facing a complex mix of security challenges, including battles between rival clans linked to the anti-government protests, and militancy linked to al-Qaeda in the south.
Analysts say that Yemen is at risk of slipping into civil war.
Early on Wednesday, tribal sources said anti-aircraft guns had brought down the jet fighter near Arhab, where tribesmen are fighting the elite Republican Guard.
Air strikes had targeted the area since Sunday, when seven soldiers were killed in a tribal raid on a military base.
Yemeni defence officials confirmed the plane was shot during a mission.
It crashed in the village of Beit Azar and the pilot - who had ejected - was captured by tribesmen, witnesses and tribal sources told AFP news agency.
"We saw the downed plane in flames on the ground," one said.
Weeks of intermittent fighting between the tribesmen and government forces culminated in the attack on the base at Nihm, about 40 miles (65km) from Sanaa.
The attack is understood to have resulted in the seizure of weapons including anti-aircraft guns.
The tribesmen are believed to be allied to leading dissident Gen Ali Mohsen al-Ahmar and are battling troops loyal to President Saleh for control of the area.