EU powers drop UN Syria sanctions call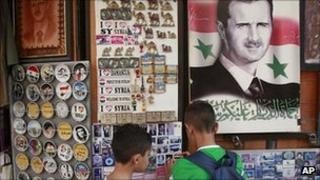 European countries proposing a new UN resolution over Syria have dropped demands for immediate sanctions against President Bashar al-Assad's government.
The draft, proposed by the UK, France, Germany and Portugal and backed by the US, threatens sanctions only if the repression of protests does not end.
The scaled-back version is aimed at winning the support of China and Russia, which oppose sanctions.
Western diplomats say they are planning for a vote by the end of the week.
The draft resolution "demands an immediate end to all violence", according to copies obtained by news agencies.
It says the 15-nation Security Council "expresses its determination, in the event that Syria has not complied with this resolution, to adopt targeted measures, including sanctions".
Last month the US, Britain, France, Germany and Portugal put forward a draft resolution calling for sanctions against President Assad, members of his family and close associates.
But Russia and China have threatened to veto any sanctions resolution against Syria.
Other members opposing sanctions include a bloc of key emerging powers - India, South Africa, and Brazil.
Wider crisis
The BBC's Barbara Plett at the UN in New York says some countries fear any outside involvement in Syria could trigger a much wider crisis.
Their position has been hardened by Nato's actions in Libya, which they say has overstepped a UN mandate to protect civilians there, she adds.
One European diplomat quoted by Reuters news agency called for "a strong and unified message to ensure that the Assad regime does not remain deaf to the demands of the international community".
Meanwhile, Syrian forces are continuing efforts to suppress protests that began six months ago.
On Tuesday troops stormed the restive central town of Rastan after besieging it for two days, activists said.
A resident of Rastan told the BBC that defected soldiers were fighting government forces within the city.
Video has emerged purportedly showing a group of soldiers announcing their defection.
The video, which cannot be independently verified, shows a man identifying himself as Captain Youssef Hammoud flanked by about eight men in uniform.
"We promise them that the town of Rastan will be their graveyard," he warns the Syrian army. "We promise them big surprises."
There are reports that with the addition of defectors the protest movement is becoming more militarised.
The BBC's Owen Bennett Jones, in neighbouring Lebanon, says there are growing signs that some activists believe peaceful protests will not be enough to bring down the government and that they need to use more force.
The UN estimates that more than 2,700 people have been killed across Syria since the crackdown began.
The Syrian government says it is battling "armed gangs" that have foreign backing.