Yemen Defence Minister Ali 'survives attack'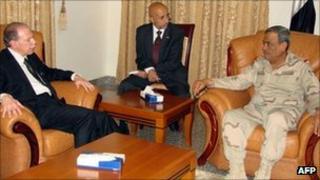 Yemen's defence minister has escaped an attack on his convoy in the southern city of Aden, security officials say.
One said that a suicide bomber drove a car full of explosives into Mohamed Nasser Ali's convoy and other attackers on motorbikes threw hand grenades.
At least three soldiers were killed and nine others hurt, he told the BBC.
Yemen is facing multiple security challenges, including fighting between political factions and an al-Qaeda militancy in the south.
Militants linked to al-Qaeda have taken advantage of the country's political instability as supporters and opponents of President Ali Abdullah Saleh battle each other in the capital, Sanaa.
There have also been mass protests against Mr Saleh's rule in several cities.
Mr Saleh, who survived an attack in June, returned to Yemen on Friday.
It was not immediately clear who carried out Tuesday's attack.
One official told AFP news agency that the defence minister's convoy was hit as it left a tunnel on the way back to his hotel.
Some officials were quoted as saying that as many as 10 security officials in the convoy had been injured.
Maj Gen Ali was staying in Aden during visit to the south, where militants have recently taken control of three towns in Abyan province.
The army has been conducting an offensive to try to regain control of the territory.