Syria unrest: 'Tanks bombard central town of al-Rastan'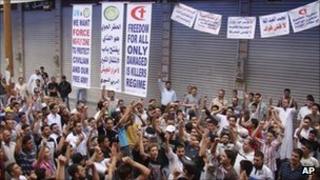 Syrian tanks have bombarded a strategic town in the restive central province of Homs overnight, injuring three people, activists and residents say.
Troops fired with machine guns mounted on tanks in the town of al-Rastan on the main road north to Turkey.
Homs province is a major flashpoint in the seven-month conflict, with army defectors backing protesters opposed to President Bashar al-Assad's rule.
More than 2,700 people have died in the crackdown, the UN says.
A resident of al-Rastan told Reuters news agency there were about 60 tanks and armoured vehicles to the east of the town.
Activists have reported an offensive on towns and villages in Homs province, where a large number of soldiers are said to have defected to the opposition.
Reports on Sunday said security forces killed 12 people in Qusseir, another town in the province.
Events from Syria are hard to verify as international journalists have been largely prevented from reporting there, but the BBC's Lyse Doucet has just arrived in Damascus.
She says it is extremely hard to get people to talk about politics, except for those who still defend the president.
Mr Assad still has some support, she adds, but the brutal crackdown against protests in the suburbs, and in cites and villages outside Damascus is diminishing that base.
The EU and the US have both imposed sanctions on Syria's regime.
The US has urged the UN Security Council to impose sanctions.
Syria blames the violence on "terrorists" and "armed gangs".