Yemen clashes as President Ali Abdullah Saleh returns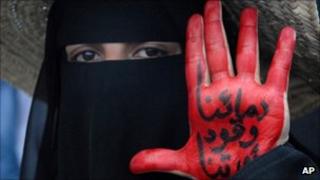 The north of Yemen's capital Sanaa has been rocked by explosions and shelling, leaving at least 13 dead, reports say.
Reports said forces loyal to President Ali Abdullah Saleh clashed with armed men opposed to his rule.
The violence came as Mr Saleh returned from Saudi Arabia three months after surviving an assassination attempt.
His office called for a ceasefire to stop violence which has claimed about 100 lives already this week, mainly of unarmed anti-government protesters.
At least 40 people were injured in the clashes in the capital's Hasaba district on Friday, Efe news agency reports.
President Saleh, who has been in power for more than 30 years, has faced months of protests urging him to quit.
He returned after having treatment in Saudi Arabia for injuries sustained in a rocket attack on the grounds of his presidential palace.
Activists have been camped out in another area of Sanaa, dubbed Change Square, since January, demanding an end to President Saleh's rule.
Doctors say at least one person was also killed overnight and many others injured when mortars landed in the square, near the university.
Clashes in the capital have recently intensified as elite Republican Guards, led by President Saleh's son Ahmed, fight running battles with army units that have defected to the opposition and tribal fighters who support the protesters.
Yemen TV said President Saleh arrived in the capital, Sanaa, by private plane at dawn and, hours after his arrival, called for a "truce and a ceasefire".
"The president calls on all political and military parties to achieve a truce," said the official, quoted by AFP news agency.
"There is no alternative to dialogue and negotiations to end the bloodshed," he added.
'Critical escalation'
But correspondents say his return raises the risk of all-out civil war.
In Sanaa, anti-government protesters and supporters of President Saleh held rallies after Friday prayers.
An al-Jazeera correspondent in the city says they have taken place within a few miles of each other, although it appeared many anti-government protesters had stayed at home for fear of violence.
The US, whose officials were reported to have been taken by surprise by President Saleh's return urged him to begin a transfer of power and arrange presidential elections.
"The Yemeni people have suffered enough and deserve a path towards a better future," White House spokesman Jay Carney said.
Correspondents in Sanaa reported a surge in artillery and machine-gun fire as news of President Saleh's return broke. As least some of the gunfire was celebratory, they said.
Yemeni state TV broadcast old footage of Mr Saleh and played national songs as it reported his return.
Protest leader Abdel-Hadi al-Azizi said President Saleh's return "means more divisions, more escalation and confrontations".
"We are in a very critical escalation," he told AP news agency.