Yemenis react to Saleh's return on social media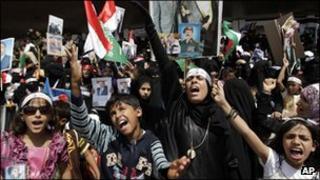 President Saleh's return to Sanaa was met with mixed reactions by Yemeni users of social media websites. His supporters, though less well established on sites such as Twitter and Facebook, expressed delight, whilst his opponents voiced their outrage at the news.
Twitter
Opponents of Saleh are more active on social media than his supporters and this was evident on Twitter following his return.
Some called on people to join demonstrations in protest at President Saleh's return, such as Yemeni @NoonArabia, who appealed specifically to people outside of Yemen to "Join Yemen in solidarity in a silent protest in cities around the world".
Other users expressed anger and disappointment at the return of the President, such as Moh'd Alomary, a resident of Taizz, who tweeted in Arabic: "It is mad for us to think that would leave of his own accord ..that would be nearly impossible".
Outrage on Facebook
Although there are several pro-Saleh Facebook pages, few of these commented on the president's return. The page "His Excellency Marshal Ali Abdallah Saleh - President of the Yemeni Republic", which has over 8,000 "likes" posted an article announcing Saleh's return to Yemen, which in turn received only six "likes" from users.
A video of the president posted shortly after received only four positive comments. User "Faris al-Jalal"'s comment "Thanks to God for your safety, O Abu Ahmad [President Saleh's patronymic]" was typical of the reaction to this video.
Opponents of the President were far more active on Facebook, vocally expressing their anger at the news and posts about Saleh's return attracted large numbers of comments.
The page "The Revolution of the Youth of the Yemeni People" announced on 23 September that "the vanquished, the deposed [Saleh] has arrived in Sanaa airport... and whether he returned or not does not mean a thing to the youth of the revolution".
Over 120 users commented on the post, with most expressing defiance. "Hussein Alkadhmy" wrote "We shall be victorious, people of Yemen", and "Yemen Ahmed" wrote "We are steadfast with you". A small number of pro-Saleh supporters commented on the post too, expressing their pleasure at the news.
The page also posted a note suggesting that Saleh had been expelled from Saudi Arabia for failing to reach an agreement with the Yemeni opposition, which also received a large number of positive comments from users in a very short time.
Although Yemenis are not as active on social media platforms as activists from other countries in the Arab world, strong reactions to the news of Saleh's arrival in Sanaa suggests that feelings about the subject run high.
BBC Monitoring selects and translates news from radio, television, press, news agencies and the internet from 150 countries in more than 70 languages. It is based in Caversham, UK, and has several bureaux abroad.