Ex-Libya PM al-Baghdadi al-Mahmoudi 'jailed in Tunisia'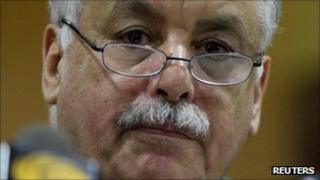 Libya's former Prime Minister, al-Baghdadi al-Mahmoudi, has been arrested in Tunisia and sentenced to six months in prison, officials say.
Mr Mahmoudi was arrested on Wednesday near the border with Algeria. He was jailed for entering Tunisia illegally.
He served as prime minister until Col Muammar Gaddafi was ousted last month.
Col Gaddafi's whereabouts remain unknown as loyalists hold out in a few strongholds surrounded by troops loyal to the new interim leadership.
Mr Mahmoudi was detained in Tamaghza, in southern Tunisia, close to the border with Algeria, Tunisian interior ministry officials said.
He had been trying to cross the border, but gave himself up without resistance, according to a report on a TV station run by Libya's National Transitional Council (TNC).
It also claimed that he was carrying fake documents.
However, a report by AFP news agency quoted an unnamed Tunisian security official as saying that Mr Mahmoudi was entering Tunisia.
Algeria has had difficult relations with Libya's new rulers, and gave refuge to Col Gaddafi's wife and three of his children.
But on Thursday Algeria's foreign ministry said it was prepared to work closely with the NTC, the official Algerian news agency reported.
Al-Arabiya TV quoted the Algerian foreign minister as saying his country had joined other countries in officially recognising the NTC.
'Localised action'
Meanwhile in Libya, NTC forces said they had captured all three main towns in the al-Jufra oasis in the south of the country - Hun, Waddan and Sokna.
And they also claimed to have taken control of Sabha, Libya's largest desert city.
"Sabha is totally free," Suleiman Khalifa, head of the Sabha local council was quoted as saying by AFP. "Eighteen [NTC] fighters were killed during the final operation."
NTC military spokesman Ahmed Bani said there were still pro-Gaddafi snipers operating in Sabha.
The BBC's Damian Grammaticus, inside the desert city, said he could hear the sound of NTC fighters firing into the air as they celebrated gaining control of Libya's largest desert city.
Our correspondent added that there were only a few pockets in the city where pro-Gaddafi snipers reportedly remained.
NTC fighters are continuing to face fierce resistance in two other Gaddafi strongholds, Bani Walid and Sirte.
Nato's operations commander Lt Gen Charles Bouchard said pro-Gaddafi forces were also clinging on to al-Fugaha in the Jufra region.
"The [Gaddafi] forces are no longer capable of coordinated action anywhere in the country," he said. "What we are now witnessing is tactical, very localised action."
In the capital Tripoli on Thursday, the US raised its flag over its embassy for the first time since the fall of Col Gaddafi.
It comes a day after US Ambassador Gene Cretz arrived back in the country.
Libya's Interim Prime Minister Mahmoud Jibril, who is at the UN General Assembly meeting in New York, has said he expects a new government to be announced within 10 days.
The NTC, which has been trying to assert its authority in Tripoli after more than six months of fighting, told UK officials it had found about 28bn dinars ($23bn, £15bn) of funds unspent by Col Gaddafi in Libya's central bank.