Al-Jazeera boss Wadah Khanfar steps down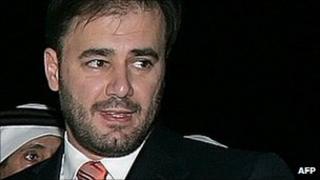 The head of Arab broadcaster al-Jazeera, Wadah Khanfar, has stepped down after eight years in the post.
In a farewell message to staff, Mr Khanfar gave no reasons for leaving other than saying he had "decided to move on".
Mr Khanfar was appointed managing director in 2003 and was later promoted to director general.
His successor has so far not been announced. Al-Jazeera is owned by the Qatari government and based in Doha.
Al-Jazeera rose to prominence during US air strikes on Afghanistan in 2001 when it became the only network allowed to report from the country and the first to air recorded statements by Osama Bin Laden.
Its English network was launched in 2006.
The news network has been outspoken on subjects deemed as sensitive in the Arab world, however some analysts say it avoids criticism of Qatar and its Gulf allies, particularly Saudi Arabia.
In December 2010, the whistleblowing site Wikileaks published US diplomatic cables alleging Qatar had tried to use al-Jazeera TV as a bargaining chip in foreign policy.
More US cables leaked in August described the channel as a tool in Qatari diplomacy.