Syrian dissidents 'killed in raids' in Homs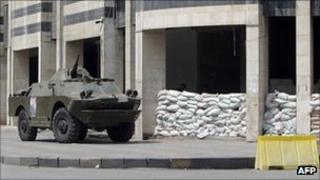 Syrian security forces have killed five people in raids against dissidents in Homs province, activists say.
The Syrian Observatory for Human Rights said tanks had cut off roads and there was heavy firing in the area of Houla.
It said authorities had fired on protesters elsewhere in Homs province, and conducted arrests in several cities.
The UN says at least 2,700 people have died in Syria's crackdown on protests against Bashar al-Assad's rule.
The Houla area includes several villages and has been one of the focal points of the Syrian uprising.
The Syrian Observatory for Human Rights said there were also arrests in Aleppo, Syria's second city, in Deir al-Zour in the east, and in the coastal cities of Latakia and Baniyas.
Another opposition group, the Local Co-ordination Committees, reported arrests and shooting in suburbs of Damascus and crackdowns in various locations in the north-western province of Idlib.
'Promises undermined'
Syrian authorities have blamed violence since March on "armed gangs", while promising political reforms.
But the Syrian regime's repression of protests has drawn growing international condemnation.
"As of today, 2,700 people, including at least 100 children, have been killed by military and security forces since mass protests erupted in mid-March," the deputy UN High Commissioner for Human Rights, Kyung-wha Kang, told the UN Human Rights Council.
"Despite the mounting international pressure in the past six months since the start of protests... the bloody crackdown in Syria has intensified," she said.
She emphasised "the importance of holding perpetrators of crimes against humanity accountable".
And she said that despite promises of reform, the government had "continuously undermined those promises by more excessive use of force, killing of demonstrators, mass arrests, raids on cities, torture and other abuses".
At the UN in New York, French Foreign Minister Alain Juppe said "crimes against humanity" were being committed in Syria.
"The silence of the Security Council is unacceptable," he said.