Iran arrests six 'BBC Persian film-makers'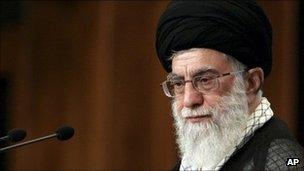 The Iranian authorities have arrested a group of film-makers and accused them of working for the BBC Persian service, which is banned in the country.
State TV reports that the group of six were paid to make secret reports for the Farsi-language service.
The BBC says no-one works for the Persian service inside the country - either formally or informally.
The arrests came a day after the service showed a documentary on Iran's Supreme Leader Ayatollah Khamenei.
The BBC's James Reynolds says the channel's signal, which is sometimes accessible inside Iran, was disrupted during the broadcast.
The corporation said the documentary on the ayatollah was an in-house production and none of the six film-makers had been involved with it.
"The individuals in question are independent documentary film-makers whose films have been screened in festivals and other venues internationally," said the statement.
"As is common practice for the channel's documentary showcase programme, BBC Persian television bought the rights to broadcast these films."
The BBC's language service chief Liliane Landor said BBC Persian had done nothing unusual in buying the rights to independent films.
She said the arrests were part of the "ongoing efforts by the Iranian government to put pressure on the BBC" to influence its impartial and balanced coverage of its Farsi-language TV broadcasts.
The corporation said BBC Persian has been subject to increasing and aggressive jamming from within Iran.
The channel has suffered deliberate attempts to interfere with its signal intermittently since its launch in 2009.