Yemen unrest: Security forces open fire on protesters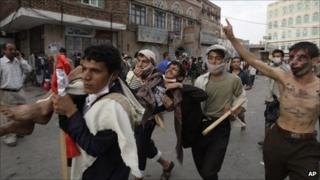 Security forces in Yemen have fired on anti-government protesters during a march in Sanaa, killing at least 26 people, witnesses and doctors say.
More than 300 people have been treated for gunshot wounds after the worst violence in Yemen for months.
Security forces opened fire with heavy weapons as tens of thousands of protesters called for President Ali Abdullah Saleh to step down on Sunday.
Protest leaders promised to continue their campaign against Mr Saleh.
Laura Kasinof, a correspondent for the New York Times in Sanaa, told the BBC that gunfire and explosions had continued in the capital throughout the night.
The defence ministry said the trouble began when protesters threw petrol bombs at the security forces, and claimed that an Islamist group had opened fire on the rally.
But protesters dismissed the government's version of events, saying their march had been peaceful and blaming security forces for the violence.
'No retreat'
Witnesses said the security forces opened fire on the protesters after they left an encampment in Sanaa and marched towards the presidential palace.
There are reports that machine guns and even anti-aircraft weapons were turned on the crowd. Tear gas and water cannons were also deployed, said witnesses.
The confrontation then developed into running street battles.
One protester told Reuters news agency he had seen his cousin shot dead.
"We protested and camped here together since the beginning," said 23-year-old Tawfiq.
"I turned around and saw him fall. I tried to hold together the wound. I can't bring myself to call his parents."
Large numbers of protesters have been camped in areas of the capital for months.
After Sunday's violence, witnesses said camps have sprung up in news areas of Sanaa, and tents are now blocking off a bridge.
"This peaceful protest was confronted by heavy weapons and anti-aircraft guns," an opposition spokesman, Mohammed al-Sabri, told the Associated Press news agency.
He said that the intensifying protests "will not stop and will not retreat".
Doctors at hospitals in the capital said 26 people were killed and hundreds more were being treated for gunshot wounds and tear gas inhalation.
At least 25 gunshot victims were said to be in a critical condition.
The violence marks a sharp escalation in the stand-off between protesters calling for Mr Saleh to step down, and security forces loyal to the president.
Some units of the military have defected to the opposition. There were reports of exchanges of gunfire between the two forces although a spokesman for Maj Gen Ali al-Ahmar, who defected several months ago, denied it, Associated Press news agency said.
Mr Saleh is in Saudi Arabia recovering from a bomb attack on him in June. There have been widespread protests against his 30-year rule.