Egypt: General elections 'to begin in November'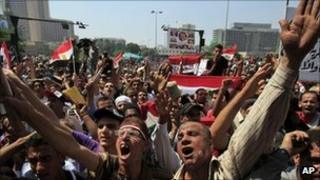 Egypt's ruling military council has proposed the date of 21 November for the start of the first parliamentary elections since the fall of President Hosni Mubarak, media say.
A formal announcement is expected to be made next week.
The elections are likely to be held in three stages, so the process will take more than a month.
No date has been set for a presidential election, which is not expected to take place until March or April.
Minister sentenced
Egyptian media quoted the election commission head, Abdel Moez Ibrahim, as saying voting for the lower house, the People's Assembly, would be in three stages, the first on 21 November and the last on 3 January.
Upper house elections would spread from 22 January to 4 March.
State news agency Mena quoted a source at the commission as saying the ruling council would fix the dates in a decree on 26 September.
The BBC's Jon Leyne in Cairo says the opposition will be hoping that these are the first fully free elections to be held after many decades of notoriously corrupt votes.
The opposition has been pressing the military to announce a timetable for the return of civilian rule.
Our correspondent says the long timescale for the presidential elections actually suits many of the new opposition movements, which say they need more time to get themselves organised.
But he says they will be looking closely at the details, to make sure that the system really does allow Egypt to evolve into a proper democracy.
Hosni Mubarak was ousted from his 30-year rule after protests this year and is on trial over the deaths of demonstrators and on corruption charges.
Separately on Sunday, former Tourism Minister Zoheir Garranah was jailed for three years for unlawfully issuing company licences.
Garranah is already serving a five-year term imposed in May for misusing public funds.