Palestinians set date for UN bid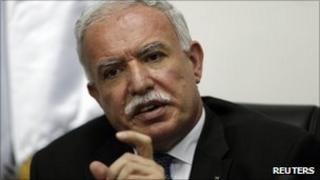 The Palestinians say they will ask for full membership at the UN next week, though they are still prepared to consider a "credible" alternative.
Unless such an offer comes, Palestinian leader Mahmoud Abbas will submit the application on 23 September, spokesman Riad Malki said.
Israeli PM Benjamin Netanyahu said he would address the UN's annual gathering on Israel's objections to the move.
Senior US envoys are in the region, trying to avert a Palestinian bid.
The last round of peace talks between Israel and the Palestinians broke down a year ago.
Since then, the Palestinians have pursued a campaign to join the UN as a full member state with international recognition, based on their 1967 borders and with East Jerusalem as a capital.
But Israel and the US say a Palestinian state can only be achieved through direct negotiation.
'Clear timetable' needed
"We are going to the United Nations because we want really to strengthen the chances for the resumption of negotiations," Mr Malki said.
"We will see if anyone carries with him or her any credible offer that will allow us to look into it seriously and to be discussed in the Palestinian leadership.
"Otherwise, on the 23rd at 12:30, the president will submit the application."
He said any alternative offer would need to have a "firm base with clear terms of reference, a clear timetable and with a clear end game".
He also said the Palestinians were planning to seek full membership, which can only be granted by the Security Council.
The US has said it will use its veto in the Security Council, after which the Palestinians could seek an upgrade in status from an "entity" to a "non-member state" in the General Assembly.
There had been some speculation that the Palestinians might go straight to the General Assembly.
Mr Netanyahu said he would address the General Assembly next week, after it begins its general debate in New York on 21 September.
"It's not an especially supporting forum for the State of Israel. It's not a forum in which we will get applause," he said.
"But I think that in this forum too it is important that the prime minister of Israel turn up and state things as they are."
US diplomats Dennis Ross and David Hale have been in the Middle East trying to persuade the Palestinians to drop their bid and resume talks instead.
EU foreign policy chief Catherine Ashton and Middle-East envoy Tony Blair have also been involved in last-minute diplomacy in the region ahead of the expected bid.