Mid-East shuttle diplomacy ahead of Palestinian UN bid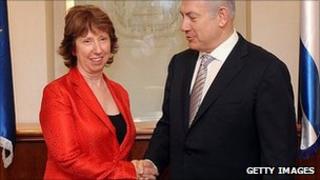 Senior US and international envoys have begun a fresh round of shuttle diplomacy to try to head off a Palestinian bid for UN membership.
US diplomats Dennis Ross and David Hale, as well as EU foreign policy chief Catherine Ashton and Middle-East envoy Tony Blair are in the region to try to revive stalled peace talks.
Palestinians are preparing a bid for UN membership later this month.
Israel has warned of "harsh and grave consequences" if the move goes ahead.
Mr Ross and Mr Hale arrived in Israel on Wednesday and held talks with Prime Minister Benjamin Netanyahu and Defence Minister Ehud Barak, the US State Department said.
They were due to travel to the West Bank on Thursday for talks with Palestinian leader Mahmoud Abbas.
Baroness Ashton also held talks with Mr Netanyahu on Wednesday morning, and announced she was extending her visit for further talks in the evening.
"I hope that in the coming days what we will be able to achieve together will be something that enables the negotiations to start," she said.
Analysts say the 27-member EU could split over the issue of Palestinian statehood if it comes to a vote at the UN, with some states backing the effort and others likely to oppose it.
US Secretary of State Hillary Clinton on Wednesday spoke to Mr Blair - who represents the Quartet of international Middle East negotiators - and to Baroness Ashton, state department spokesman Mark Toner said.
"This is part of our intensive effort here to find a way forward," he added.
The last round of peace talks between Israel and the Palestinians broke down a year ago.
Since then, the Palestinians have launched a campaign to join the UN as a full member state with international recognition based on their 1967 borders with East Jerusalem as a capital.
The UN begins its annual General Assembly general debate in New York on 21 September.
Israeli Foreign Minister Avigdor Lieberman, speaking on Wednesday, warned of dire consequences if the Palestinians went ahead.
"From the moment they pass a unilateral decision there will be harsh and grave consequences," he said.
"I hope that we shall not come to those harsh and grave consequences, and that common sense will prevail in all decisions taken," he added.
Some hardline Israeli politicians have called for Israel to annex sections of the West Bank if the Palestinians go ahead.