Bombs rock southern Yemeni city of Aden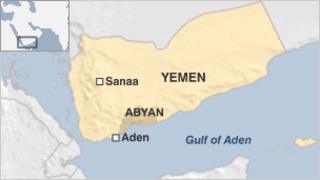 At least two bomb blasts have hit security buildings in Yemen's southern city of Aden, officials say.
One young boy was killed in an ensuing gun battle, security sources and witnesses said.
Yemen has been plagued by unrest for months, including clashes in the south between security forces and Islamist militants.
In a separate incident, two people died when an artillery shell hit a house in the capital Sanaa, reports said.
The attack took place in the Hassaba neighbourhood, near the compound of Hashid leader Sheikh Sadiq al-Ahmar whose fighters are opposing President Ali Abdullah Saleh, witnesses said.
In Aden, security officials said the blasts failed to penetrate the perimeter walls of the two buildings, which stand about 400m apart.
The Yemeni army recently announced it had recaptured the capital of the southern province of Abyan, where Islamic militants linked to al-Qaeda have mounted an uprising.
President Saleh is clinging to power despite months of protests against his 30-year rule.
He is currently in Saudi Arabia being treated for wounds suffered in an attack on his palace compound in June.
A recent UN report said Yemen risked sliding into civil war unless political unrest was resolved swiftly.
The UN Human Rights Council said security forces had responded with excessive force against peaceful demonstrations.
It said hundreds of Yemenis had been killed and thousands injured since anti-government protests began in January.