West Bank residents split on Palestinian statehood bid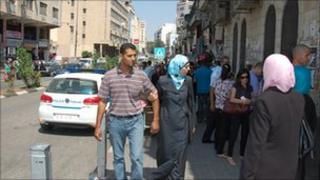 Palestinians in the West Bank are generally in favour of their leaders' attempt to get recognition for an independent Palestine at the United Nations.
But where they live, and their particular daily experience of Israel's occupation of the territory, significantly affects their views on the initiative.
In al-Manara Square in central Ramallah, people are overwhelmingly positive.
This is part of the occupied West Bank known as "Area A", meaning it is under control of the Palestinian Authority (PA).
"I support the PA, they are trying to bring our freedom from the UN," says a middle-aged man, Ziad. "They are asking the international community to recognise our rights".
"I encourage everyone who's responsible to take a step towards it". "Why not? As a symbol I would be very glad about it," says Leila, a young mother heading to the supermarket.
In the city it is easy to imagine what a future Palestinian state might look like.
Palestinian police officers direct traffic on the newly cleaned streets and the shops and restaurants are packed.
It lends a sense of relative prosperity and security.
"There's still more to do be done in terms of services and infrastructure but the economy has grown and security has improved a lot in the past few years," says a Ramallah resident, Hussein.
As two decades of peace talks have failed to secure a two-state solution to the Israeli-Palestinian conflict, Palestinian officials insist the time is right to ask the UN to grant full membership to an independent state of Palestine.
They want recognition on pre-1967 borders, with East Jerusalem as their capital.
A survey by the Palestinian Center for Policy and Survey Research in the West Bank and Gaza found that 65% favour the UN statehood bid despite warnings from the United States not to pursue it.
Area C
However you do not have to drive far into the West Bank to find Palestinians with serious reservations.
As you drive along the main roads, red-roofed Jewish settlements line the hilltops, close to Palestinian villages and Israeli flags fly over military bases.
"Everything here has a demolition order. We're close to Carmel [settlement] and the Israelis are in charge here," says Zayd Hathaleen from a small Bedouin community south of Hebron.
"There's no Palestinian Authority, just we have the ID".
The local village, Um al-Khayr is in Area C, which covers 60% of the West Bank.
Here, Israel is fully in control of security, planning and building.
Some 150,000 Palestinians live in this zone, which was designated after the 1993 Oslo Accords.
Mr Hathaleen says it is hard to imagine a Palestinian state here.
"We're under occupation until now and you speak about a state?" he says.
"The Israeli army is everywhere here and the settlers are everywhere - they're armed and they cause a lot of problems and you speak about a state?"
"It's just a speech in the Security Council and that's it," he goes on. "You can speak all you want but on the ground, in actions you can't change anything."
Fears of violence
In another Area C location, in Burin, south of Nablus, Rahma Najar opens the door to her empty barn.
"See how the lock is broken, this used to be full of goats," she says.
Mrs Najar has lost many of her animals following clashes with the settlers who live near her family house.
Tensions have been rising again in recent weeks as the Palestinians prepare to go to the UN.
"We're afraid there will be more attacks now," she says.
However her son, Muhammad, hopes the new initiative will give the Palestinians access to international courts that will force the settlers to leave.
Settlements are considered illegal under international law, although Israel disputes this.
"Going to the United Nations is a positive step if it achieves its goal of a Palestinian state free of outside control," says Muhammad.
"Then we could live under own government in peace and security."
Managing expectations
Public meetings have been organised by the PA and civil society figures to try to explain the details of the UN effort and boost public support.
Rallies are planned for the coming weeks.
Yet international law expert, Abdallah Abu Eid, says expectations must be managed or there will be disappointment.
"This is a big danger, a psychological one. We have to tell normal people what are the pros and cons of the issue. They are still confused," he says.
"We can have a big jump towards statehood but a lot of academics are apprehensive of the move - they think it will only be on paper, it will not bring any practical improvement to our legal status."
At this meeting, locals stand as the Palestinian national anthem blares out of the loudspeakers.
"With the longing in my blood for my land and my home have climbed the mountains and fought the wars," go the lyrics.
People here feel a strong sense of national identity and most deeply want their own state but past experiences have taught them to be cautious.