Iran denies decision made over jailed US 'spy' hikers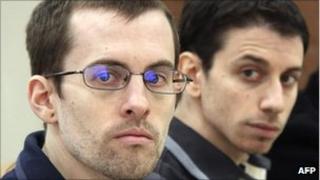 Iran has denied that a decision has been made about the release of two US hikers jailed for spying, according to Iran's English language Press TV.
An official told the TV channel the two Americans, Shane Bauer and Josh Fattal, would stay in prison "a bit longer".
President Mahmoud Ahmadinejad had announced on Tuesday that the two would be freed in "a couple of days".
The men, both 29, were arrested in 2009 and sentenced last year to eight years in prison for illegal entry and spying.
They denied the charges, claiming that they strayed into Iran accidentally while hiking near the border with Iraq.
A third American, Sarah Shourd, was arrested with the two men and released in September 2010.
"While denying [the] release of two Americans accused of espionage, the public relations of the judiciary announces that the request of the lawyer to post bail and free them is being studied by the case's judge," said a statement posted on the judiciary website on Wednesday.
"Any information in this regard will be issued by the judiciary and any release of information from other sources is not valid," it added.
'Second judge'
A lawyer for the men, Masoud Shafii, told AFP news agency that two judges needed to authorise the posting of bail.
"There are two judges who have to sign the decision for me to start the process of actually posting bail. I am waiting for one of the judges who has still not signed," he said.
"If he does not sign the decision by the end the working day, 15:00 local time (11:30 GMT) it will postponed to Saturday."
On Tuesday, Mr Ahmadinejad was quoted in interviews with the US media as saying the two Americans would be freed, in what he described as a "unilateral pardon" and a "humanitarian gesture".
Mr Ahmadinejad is expected in New York on 22 September for a meeting of the UN General Assembly.
Also on Tuesday, an Iranian judge said he would release the men on payment of $500,000 (£316,000) bail each - the same bail that was demanded in Ms Shourd's case.
In response, the families of the two men said in a statement that they were "overjoyed" by the news.
US Secretary of State Hillary Clinton said she was "encouraged" by Mr Ahmadinejad's comments.