UN report warns Yemen risks sliding into civil war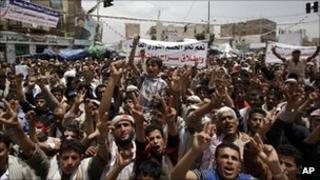 A United Nations report says Yemen risks sliding into civil war unless political unrest is resolved swiftly.
The UN Human Rights Council says hundreds of Yemenis have been killed and thousands injured.
It said security forces had responded with excessive and lethal force against peaceful demonstrations opposing the rule of President Ali Abdullah Saleh.
The UN report also called for an independent inquiry into human rights violations.
'Growing frustration'
Inspired by the uprisings in Tunisia and Egypt, anti-government protests began in January, calling for the end to President Saleh's 30-year rule.
In the most violent incident, police snipers opened fire on a pro-democracy demonstration in the capital, Sanaa, killing more than 50 people.
Following months of unrest, the UN Human Rights Council sent a team of three investigators to Yemen in July.
It found a wide range of human rights violations and abuses had taken place throughout the country.
The report said that children were among those subjected to killings, injury, torture and arbitrary detention.
It called on Yemen's government to take immediate action to end attacks against civilians by security forces, including the use of live ammunition on crowds.
But it also blamed armed opposition tribesmen and Islamists for abusing the civilian population in the increasingly violent power struggle.
"Clearly the country is teetering on the brink of civil war," the team leader, Hanny Megally said.
"Frustrations are growing and people don't see the light at the end of the tunnel because nobody is willing to take a step forward."
President Saleh remains in Saudi Arabia, where he is convalescing after being injured in a rocket attack.
But he has vowed to return to Yemen, in spite of opposition from both his hosts and the United States.
They are concerned renewed conflict will bolster the power of the Yemen-based wing of al-Qaeda.