Shia pilgrims shot dead in western Iraq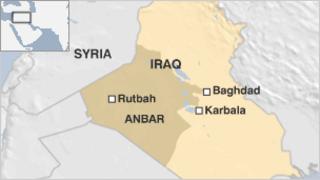 A group of 22 Shia pilgrims have been found shot dead in Iraq's western Anbar province, say Iraqi officials.
The men had reportedly been travelling by bus to visit a shrine in Syria when they were held up at a checkpoint in a remote desert area.
Officials said gunmen had ordered the women to leave the bus then driven the men to another location where they killed them.
Attacks on Shia pilgrims have claimed hundreds of lives in recent months.
"There was a big bus and a minibus containing 30 people, including 22 men and 8 women," Maj Gen Hadi Razij, head of the provincial police, told Reuters.
"They took the men and they left the women."
The incident took place south of the town of Rutbah, a security source quoted by Reuters said.
The Associated Press news agency said an Iraqi army patrol had found the women by the side of the road.
All the victims are said to have come from the city of Karbala.
A 2006 bomb attack on the gold-domed al-Askari mosque in Samarra, a site sacred to Shia Islam, left the mosque largely destroyed and was blamed for starting the 2006-07 wave of sectarian bloodshed.
Levels of violence in Iraq have fallen since the peak of those years, but militants still carry out almost daily strikes.