Arab League chief 'agrees reforms' with Syrian leader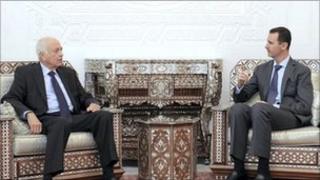 Arab League Secretary General Nabil al-Arabi says he has agreed with Syrian President Bashar al-Assad on steps aimed at ending months of violence.
Mr al-Arabi said he had urged President Assad during talks in Damascus to speed up reform plans.
At least six people are reported to have been killed in the latest anti-government demonstrations.
Rights activists said security forces shot dead five protesters in the city of Homs, and one in Idlib province.
The Arab League has criticised the violence in Syria and called on the government to recognise the legitimate social and political aspirations of the people.
'Three-year timetable'
"We have reached agreement on steps to carry out the reforms," Mr al-Arabi said on returning to Cairo after the talks.
He said he had urged the Syrian president to speed up reform plans through a timetable that would make every Syrian citizen feel they had moved on to a new stage.
He said the reform package he discussed in Damascus would now be put to the council of the Arab League on Monday.
Mr al-Arabi has not given many details away but, before he went, newspaper reports suggested the Arab League wanted a three-year timetable for a transition to multi-party government in Syria.
For its part, the official Syrian news agency Sana said at the end of the meeting that the Arab League was committed to Syrian stability.
It added that the two sides had agreed on a number of practical steps to speed up the reform process.
Opposition activists, meanwhile, say that violence is continuing with the security forces trying to suppress protests, even as the talks in the capital were happening.
According to the UN, more than 2,200 people have been killed in Syria since anti-government protests began more than five months ago.
The government says hundreds of its personnel have been killed.
Foreign reporters are not being allowed in to Syria so news organisations are largely dependent on unverified amateur video and reports by rights groups.
The international community has urged the Syrian president to stop targeting civilians.
The government insists that it has a political reform programme in place, but opposition leaders say there can be no free and fair elections while the ruling Baath party is in power.