Gaza militant killed as new Palestinian mosque attacked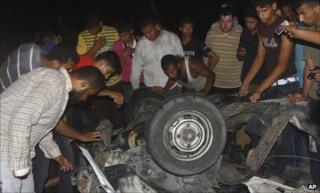 A Palestinian militant has been killed and two others wounded in an explosion in the Gaza Strip, medics say.
The Islamic Jihad militant group blamed an Israeli air strike for the death of Remah al-Hasani, a member of its military wing, the al-Quds Brigades.
But Israel's army denied any role in Wednesday's late-night incident.
On Tuesday evening, an Israeli air raid on Gaza killed a militant from the Popular Resistance Committees (PRC) and wounded a father and his two sons.
The latest violence comes despite a ceasefire that came into force after a spasm of violence that followed a militant attack in Eilat on 18 August, which left eight Israelis dead.
Mosque attack
Meanwhile, settler violence in the West Bank has also increased in recent days.
Vandals sprayed graffiti on a mosque near Nablus, torched two Palestinian cars and uprooted olive trees in overnight attacks on Thursday that locals blamed on Jewish settlers.
The mosque in Yatma village, some 10km (six miles) south of Nablus, was spray-painted with the Hebrew words for "price tag" and "Migron" - a settlement outpost where Israeli troops demolished three homes on Monday.
Hardline settlers have adopted a so-called "price tag" policy under which they attack Palestinians and their property in retaliation for Israeli government measures to dismantle their illegal outposts.
It was the second time in three days that vandals had attacked a mosque and painted the word "Migron" on the walls, following an arson attack in the nearby village of Kasra.
And on Wednesday, settlers vandalised an Israeli army base in the first suspected case of "price tag" attacks against Israeli forces, said the army.
There are some 500,000 Jewish settlers living in the West Bank and East Jerusalem. Settlements are regarded as illegal under international law, although Israel disputes this.
Tensions have been running high two weeks ahead of a planned appeal by the Palestinian leadership to the United Nations, calling for the acceptance of an independent Palestinian state within its 1967 borders in the West Bank, Gaza and East Jerusalem.
Israel is fiercely against the move.