Bahrain medics released on bail after hunger strike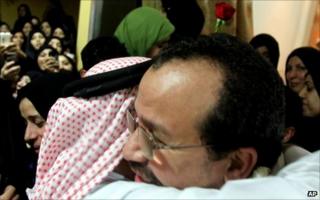 Bahrain has released on bail 20 medics who are on trial for their role in a month-long pro-democracy protest.
They were reported to be among more than 100 jailed activists who went on a hunger strike.
Hundreds of activists have been imprisoned since February, when Shia-led protests began, calling for greater rights in the Sunni-ruled kingdom.
Officials say 24 people died in the unrest, including four policemen, but opposition groups put the toll at 30.
Small-scale clashes between security forces and demonstrators have taken place on a near nightly basis, ever since emergency rule was lifted in June.
The Bahrain Commission of Inquiry (BCI), an international commission set up by the king, said that 17 detainees were admitted to hospital for refusing to eat.
Verdict pending
Late on Wednesday, violence erupted in the restive Shia area of Daih, on the outskirts of the capital of Manama, as hundreds of well-wishers gathered to welcome Dr Ali al-Ekri home.
Several people were injured by bird shot when riot police stormed the area to break up the gathering.
The medics are being tried in a quasi-military court, despite assurances by King Hamad last month that all trials related to the pro-democracy protests would be held in civilian courts, reports say.
They include dozens of doctors and nurses who treated the injured at nearby Salmaniya Hospital in Manama, who have been charged with incitement to overthrow the government.
Human rights campaigners in Bahrain say there is still concern for the medical workers, as charges against them have not been dropped. The court is due to issue its verdict on 29 September.
The medics were rounded up in the wake of a security crackdown in March which drove protesters out of Manama's Pearl Roundabout - the focal point of anti-regime protests, which was later demolished.
Many of the doctors - as well as other political detainees - claim to have been tortured in custody.
The Bahraini authorities said in May that 405 cases have been referred to the courts, while 312 people were released, the AFP news agency reports.