France's Alain Juppe: Syria committing 'grave crimes'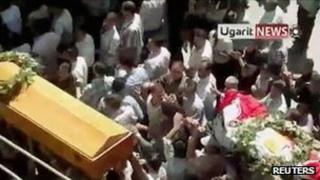 France's Foreign Minister Alain Juppe has accused the Syrian government of carrying out "crimes against humanity".
Speaking in Moscow, he said Syria could face further sanctions if it did not change course.
Activists say Syrian forces are continuing their crackdown on protests and have killed seven more people in a new assault on the city of Homs.
More than 2,200 people have died in five months of protest against the rule of President Bashar al-Assad.
"The way [Syria has] suppressed the popular protests is unacceptable," said Mr Juppe, according to the French AFP news agency.
He was speaking during a press conference with his Russian counterpart Sergei Lavrov in Moscow.
Last week the EU banned imports of Syrian oil - a decision criticised by Russia, which has been pressing calls for political dialogue.
The Assad government insists that the opposition protests are being organised by "terrorist cells" who are being armed and funded by an international conspiracy against Syria.
Mr Juppe accepted Moscow had a different position on Syria, saying: "I hope Russia will back us in the Security Council even if our positions do not yet fully agree."
But Mr Lavrov said again that it wanted the opposition to engage in dialogue with the Assad government.
He said: "Russia has submitted a draft UN Security Council resolution that calls on all sides to end all types of violence... and calls on the opposition not to resort to armed provocation, which we have seen before, and not to reject invitations to talks."
Meanwhile Syria's Finance Minister Mohammad al-Jleilati said EU sanctions would "not hurt Syria" and that Damascus would seek to expand economic ties with unspecified Asian nations.
"Syria will remain standing on its own two feet," he said.
'Non-stop gunfire'
Homs - Syria's third-largest city - has seen rolling violence for months.
Wednesday's large-scale security operation in the city involved tanks, troops and heavy gunfire, activists and locals said.
"All through the night, there was shooting. The gunfire didn't stop," a resident of the city told the Associated Press news agency by phone. "I can't tell exactly what is going on because it's too dangerous to go out."
The UK-based Syrian Observatory for Human Rights said seven people were killed and 20 others wounded in the operation.
The latest reports suggest that Sunni parts of the city were targeted, says the BBC's Owen Bennett Jones in neighbouring Beirut.
Most of Syria's ruling establishment are Alawites, and Alawites also dominate the security forces, says our correspondent. Activists have previously reported the death of several Alawite residents in apparent revenge killings in the restive western city.
They have also reported an increasing number of defections among the mostly Sunni rank and file military in Homs and its surrounding countryside, but Syrian officials deny the claims.
The government insists that it has a reform programme in place, but opposition leaders say there can be no free and fair elections while the ruling Baath party is in power.
They have also refused to negotiate while it continues to kill peaceful protesters.
On Wednesday it was announced Arab League Secretary-General Nabil al-Arabi would now visit Syria, after reports that Damascus had called off a planned trip for "objective reasons".
Mr Arabi would visit on Saturday, the League's deputy leader, Ahmed Ben Helli, said.
The League has called for an end to the violence and spoken of the Syrian people's legitimate aspirations for social and political reform.
The League will meet to discuss Syria on 13 September.