Palestinians send homemade UN membership chair on tour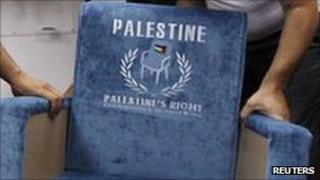 A Palestinian chair is beginning a tour of Europe and the Middle East on its way to the UN headquarters in New York.
It is part of the Palestinian leadership's lobbying efforts ahead of a planned request to become a United Nations member state when the UN General Assembly convenes in two weeks.
The so-called flying chair is doubtless something of a gimmick.
Decked out in UN blue with "Palestine" embossed on the velour, the seat was made by Palestinian artisans.
The first leg of its journey will take it to Lebanon, which currently chairs the UN Security Council. It will then make stops across Europe on its way to New York.
UN vote
For months, Palestinian leaders have also been travelling the world lobbying for support of their UN bid.
Palestinian President Mahmoud Abbas remains adamant he will go to the Security Council to ask for Palestine to be accepted as a full member state.
That state would include the West Bank and Gaza, with East Jerusalem as its capital.
The US, which has veto power at the Security Council, has said it would block such a move. But the Palestinians would likely have enough support at the UN General Assembly to get their status upgraded from an observing entity to a non-member state.
Israel is fiercely against the move.
American and European diplomats are currently working to try and persuade the Palestinians to drop the UN bid and draw up a plan for the Palestinians and Israelis to return to negotiations. They only have two weeks to do so.
By then the Palestinian chair will be in New York, if only symbolically.