Iran arrests saltwater lake protesters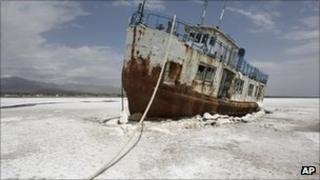 Iranian officials say 60 people have been arrested in protests calling for the government to save a shrinking lake in the north-west of the country.
Lake Orumiyeh, one of the world's largest salt lakes, has lost more than half its surface area in 20 years due to drought and the damming of rivers.
A local MP says if the lake disappears it will leave behind 10bn tonnes of salt and displace millions of people.
An emergency rescue plan for the lake was rejected by parliament last month.
Correspondents say the government has yet to take a position on the future of the lake.
Officials quoted by the official Fars news agency said about 200 people took part in protests in Orumiyeh on Saturday and at least 60 were arrested.
'Irreparable impact'
Seyyeh Javad Mahmudi, a senior official in West Azarbayjan province, said demonstrators had not applied for a permit to protest.
It was the latest in a series of demonstrations over the lake, which is classified as a biosphere reserve by Unesco.
Orumiyeh MP Javad Jahangirzadeh urged protesters to continue their campaign, warning that the drying up of the lake could have an irreparable impact on Iran's ecosystem.
"If this lake disappears Iran will be in serious danger and this salt marsh may affect the ecosystem," he said, according to the Tabnak news website.
"We should not confront the protests. Instead, we should better think of a solution."
Some environmental experts warn that the lake could be dried out in the next two to four years if no action is taking.
Campaigners warn that vast quantities of salt left on the surface could lead to "salt storms" threatening ecosystems as far away as neighbouring Iraq and Turkey.
Last month, Iran's parliament refused to fast-track a rescue plan for the lake, triggering a series of protests in Orumiyeh and nearby towns.
The rejected proposals envisaged feeding the lake with water from the River Arax, about 70km (45 miles) to the north.