Syrian soldiers 'killed in ambush' near Hama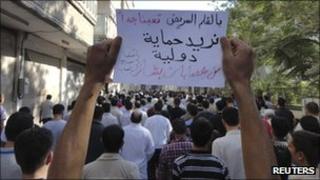 Six Syrian soldiers and three civilians have been killed in an ambush by an armed group in central Syria, state media says.
A further 17 people were wounded as gunmen ambushed the bus near Hama, Sana reported, adding that three gunmen were killed in an ensuing gunfight.
Syria blames foreign-backed armed groups for the ongoing protests against the rule of President Bashar al-Assad.
Meanwhile, activists said Syrian forces killed 12 in raids on restive areas.
The Local Coordination Committees (LCC), which coordinates anti-regime protests, reported 12 deaths in the north-western province of Idlib and the city of Hama.
The area has seen more arrests and bloodshed since Hama governorate Attorney-General Adnan Bakkour resigned last week in protest at "crimes against humanity" committed by security forces.
Activists say nearly 30 people have died across Syria since Friday, which saw the now-familiar weekly pattern of prayers, followed by protests, followed by shootings.
Access to Syria has been severely restricted for international journalists and it is rarely possible to verify accounts by witnesses and activists.
But the United Nations says more than 2,200 people have been killed in government crackdowns since pro-democracy demonstrations began in mid-March.
International pressure
The latest bloodshed came as the Arab League stepped up the pressure on Damascus, with a visit from Secretary General Nabil al-Arabi scheduled next week.
"I will express Arab concerns and I will listen," said Mr Arabi in a news conference at the organisation's Cairo headquarters.
An earlier meeting of the 22-member league's foreign ministers called for political and social reforms as well as an "end to the spilling of blood and (for Syria) to follow the way of reason before it is too late".
But it is unclear as to how Syria will respond to Mr Arabi's visit, says the BBC's Bethany Bell in Cairo, or how much pressure the Arab League is willing to apply: The league says stability in Syria is key to the whole region, and it has not taken steps to suspend the country from the pan-Arab body, as it did with Libya earlier this year.
On Friday the EU banned oil imports from Syria in a move aimed at increasing pressure on Damascus over its violent crackdown.
The US had already banned the import of Syrian oil and called on Mr Assad to step down.
Russia, which has a veto on the Security Council, opposed the moves and has refused to back a resolution imposing an arms embargo or asset freeze.
French Foreign Minister Alain Juppe said his country would increase contact with Syrian opposition figures.
In August, dissidents set up a "Transitional National Council" to co-ordinate the campaign against President Assad, following the example of the rebels in Libya. Burhan Ghalioun, a professor of political sociology at the University of Paris III, was appointed chairman.