UN 'growing concern' over Iran nuclear weapons plan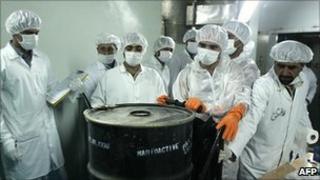 The UN nuclear watchdog says it is "increasingly concerned" that Iran is secretly working on components for a nuclear weapons programme.
The International Atomic Energy Agency (IAEA) describes its information as "extensive and comprehensive".
In a report seen by news agencies, it also says Tehran is preparing to enrich uranium at a new location - an underground bunker near Qom.
Tehran insists its nuclear programme is entirely peaceful.
Iran is subject to UN Security Council sanctions for refusing to freeze its enrichment programme.
Uranium enrichment can produce fuel for a nuclear reactor but can also be used to make a nuclear warhead.
'Undisclosed' activities?
The IAEA says "many member states" had provided evidence for its latest assessment on Iran's nuclear ambitions.
Extracts of the report, published by the AFP news agency, said the IAEA was "increasingly concerned about the possible existence in Iran of past or current undisclosed nuclear related activities involving military related organisations".
These included "activities related to the development of a nuclear payload for a missile".
The report adds that IAEA Director General Yukiya Amano wrote to Iran's nuclear chief Fereydoun Abbasi Davani in June and "reminded Iran that it should fully implement all its obligations in order to establish international confidence in the exclusivity peaceful nature of Iran's nuclear programme".
Iran has so far not responded to the report.
Six world powers are negotiating with Iran over its nuclear programme.
Iran concealed its enrichment programme for 18 years. The Security Council says that until Iran's peaceful intentions can be fully established, it should stop enrichment and other nuclear activities.
The UN has so far slapped four rounds of sanctions on Iran; however, they do not block the trade in oil and gas, the major source of Iran's income.