Syria unrest: Hama legal chief 'resigns over killings'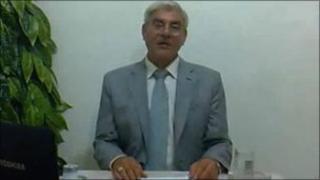 A man claiming to be the top legal official in the central Syrian city of Hama has announced that he has resigned in protest at the crimes against humanity committed by security forces.
In a video statement, Hama governorate attorney-general Adnan Bakkour said he had evidence of more than 70 executions and hundreds of cases of torture.
It is not clear when he was filmed.
Syria's state news agency, Sana, says Mr Bakkour was kidnapped by "terrorist groups" and forced to lie at gunpoint.
It quoted the Hama Police Command as saying the attorney-general, his driver and a bodyguard had been abducted by gunmen in the village of Karnaz on Monday. There have been no other reports about Mr Bakkour since then.
Naming names
In his statement, which was posted online on Wednesday, Mr Bakkour said he was resigning because of the "al-Assad regime and his gangs".
Mr Bakkour gave the reasons for his decision as:
The killing of 72 prisoners in Hama's central prison on 31 July 2011, including peaceful protesters and political activists
The burying of more than 420 victims in mass graves in public parks by security forces personnel and the pro-regime shabiha militia; he said he was told to report that the victims were killed by armed gangs
The arbitrary arrests of peaceful protesters; he said there were approximately 10,000 prisoners in total
The torture of prisoners at branches of the security services; he said approximately 320 people had died under torture
The demolition by the army of homes with people still inside in his district of Hama, al-Hadima
Mr Bakkour said he would make documents supporting his allegations available later, but in the meantime would name "criminals" who he said had massacred unarmed protesters.
They included the local heads of the interior ministry, police, military intelligence, air force intelligence, and the General Security Directorate. He also accused several named officers of torture.
'Dirty game'
But the Sana agency quoted an official source who said Mr Bakkour's statements were "lies about completely false practises," and that he had been forced to make them.
The official also said the news about the attorney-general was "another dirty game by al-Jazeera" - referring to the Qatari-owned pan-Arab news channel.
The publication of the video came as troops backed by tanks raided houses in Hama searching for activists behind the protests calling for the overthrow of President Bashar al-Assad, residents said.
On Tuesday, at least seven people were shot dead by security forces as thousands took part in impromptu demonstrations nationwide after prayers marking the end of the Islamic month of Ramadan. Activists said six were killed in the southern governorate of Deraa, including three in the town of al-Harra.
Later, the human rights group, Amnesty International, published details of 88 people it believed had died in police detention. It included videos of corpses with signs of beatings, burns, electric shocks and other abuse.
The UN has said more than 2,200 people have been killed since pro-democracy demonstrations began in mid-March. Syria's government has blamed "armed criminal gangs" for much of the unrest.
Access to Syria has been severely restricted for international journalists and it is rarely possible to verify accounts by witnesses and activists.