United Arab Emirates profile - Leaders
President, ruler of Abu Dhabi: Sheikh Khalifa bin Zayed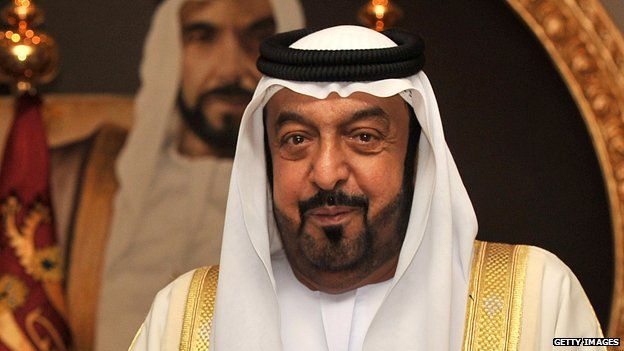 Sheikh Khalifa was named as president by the UAE Federal Council shortly after the death of his father, Sheikh Zayed Bin-Sultan Al Nahyan, in November 2004. The former president, who was 86, had been in poor health.
Sheikh Khalifa, who had been crown prince of Abu Dhabi since 1969, is said to be a pro-Western moderniser. He has promised to widen the participation of UAE citizens in "public affairs".
Often referred to as the father of the nation, Sheikh Zayed succeeded his brother as ruler of Abu Dhabi in 1966 and, because of his strong leadership and commitment to forming the federation, he was elected as the first president of the United Arab Emirates in 1971.
Re-elected every five years since 1971, Sheikh Zayed to some degree promoted the values of religious tolerance and equality, especially for women, into his policies, which greatly enhanced the stability of the UAE.
In January 2014 Sheikh Kalifa underwent surgery after suffering a stroke.
Vice president and PM, ruler of Dubai: Sheikh Mohammed bin Rashid al-Maktoum
Sheikh Mohammed succeeded his elder brother Sheikh Maktoum as ruler of Dubai in January 2006, and was elected to take his place as the UAE's federal prime minister.
Even before taking over as ruler, Sheikh Mohammed had pursued the ambition of transforming Dubai - originally a fishing village and the emirates' main trading post - into one of the world's foremost financial and cultural capitals.
In the early 2000s, growth rates reached double digits, while investment and workers poured in from Asia, the Middle East and the West. Sheikh Mohammed also worked to make his state the most tolerant in the UAE for foreigners.
However, the economic crash of 2008-9 left Dubai with large debts, and needing assistance from Abu Dhabi. Abu Dhabi gave Dubai $10bn to pay off the debts of the government-owned company Dubai World.
Ruler of Ajman: Sheikh Humaid bin Rashid al-Nuaimi
Ruler of Fujairah: Sheikh Hamad bin Muhammad bin Hamad al-Sharqi
Ruler of Ras al Khaimah: Sa'ud Bin-Saqr al-Qasimi
Ruler of Sharjah: Sheikh Sultan bin Muhammad al-Qasimi
Ruler of Umm al Qaiwain: Sheikh Saud bin Rashid al-Mualla