Police targeted in series of Iraq attacks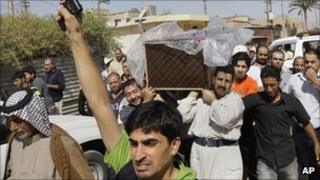 At least 13 people have been killed in a series of attacks across Iraq - in Basra, Falluja and Baghdad.
In the southern city of Basra, a bomber blew himself up near a Shia mosque, killing three and wounding 50 others.
Two bomb attacks shook Falluja, west of Baghdad, with several police and army officials killed.
In the capital, a car bomb killed one passer-by and wounded 17 others people as an Iraqi army convoy drove through a Shia neighbourhood.
The blast in Basra, 260 miles (420km) south of the capital, set fire to nearby cars and shops, a police officer at the scene told Reuters.
In Falluja, a suicide car bomber targeted a police checkpoint, killing four police officers and wounding five others. Later, three Iraqi soldiers were wounded when a roadside bomb blew up near their patrol.
Separate incidents were also reported in the town of Garma, north-west of the capital, when three policemen died and five were wounded in two explosions, and in Mosul, when a soldier was killed by a roadside bomb.
In Karmah, west of Baghdad, gunmen attacked a police station, AP reported. After exchanging gunfire, a car bomb exploded near the police station, killing five officers, said the agency.
There has been a recent flurry of violence across Iraq, although it is much reduced since a peak in 2006-2007.