Russian-Israelis protest against marriage restrictions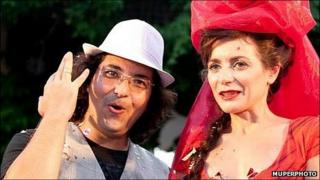 The wedding of Inna Zyskind and Pavel Kogan last week was one of the happiest days of their lives.
Friends and family watched as they exchanged vows and rings under a canopy in their quirky designer outfits.
Then more than 1,000 guests attended an open-air festival in Tel Aviv, with street performers and musicians, partying long into the night.
The couple's only regret is that their marriage is not legally recognised in Israel.
In fact, it was organised by activist groups as part of a colourful protest against religious restrictions on who can marry.
Inna, who was born in Russia, was able to move here and become an Israeli citizen under the state's law of return for Jews.
But she is not recognised as truly Jewish by Israel's orthodox rabbinical establishment.
And in Israel, only religious marriages, not civil ones, are allowed.
Uncertain status
As I sit in the couple's cosy apartment in Jaffa, which they share with their nine-month-old daughter and two fluffy cats, Inna explains her shock at finding out she was not considered a Jew.
"When I came to Israel, I felt I'd come home. I was brought up as a Jewish girl," she says. "Three of my four grandparents were in the Holocaust."
The problem, she soon found out, is that her maternal grandmother was not Jewish. And in Judaism, religion is inherited through the maternal line.
It is estimated that some 300,000 Israelis from the former Soviet Union, many of whom pay taxes and serve in the Israeli military, are in the same predicament.
A number of them came along to what was, in the end, the symbolic wedding party of Inna and Pavel, which took place on Tu B'Av, the Jewish equivalent of Valentine's Day.
"This was our demonstration," says Pavel. "We're secular people. We want to break the religious monopoly over this part of our life in Israel. We should be allowed a civil wedding."
Vegas or conversion?
The couple have other options, including going overseas to have a civil service. One Israeli rabbi who I consulted even said he would recommend that.
But Pavel and Inna find the idea "offensive". They question whether they should go to Las Vegas and be married by an Elvis Presley impersonator.
Then the authorities here would stamp the paperwork and accept their new status. How, they ask, could this be preferable to a ceremony at home?
Another alternative is for Inna to undergo an orthodox conversion - an intensive programme of religious study.
Rabbi Haim Miram works at the Institute for Jewish Studies in Jerusalem, which has carried out more than 10,000 such conversions in the past decade.
"The process can take almost a year," he tells me. "We try to explain the missing part in your history. You learn about the Jewish religion, traditions, the Halacha (Jewish law), and the Torah."
"You learn what a Jew has to do and practise it. If all goes well then you go to the Beit Din (rabbinical court) which decides whether to call you to the Jewish nation."
For Inna, this solution would be hypocritical.
"I don't like to fake religion," she says. "I don't want to make myself look religious to get approval that I'm Jewish enough and then return to my secular lifestyle."
Pressure for change
As Russian-speaking Israelis have become a formidable political force in Israel, pressure has increased to solve their social problems.
The "Israel is our home" or Yisrael Beitenu party, which has wide support in the community, promised a new conversion law. But its attempts to introduce a bill have become mired in controversy.
One of the few recent advances has been a fast-track conversion process for Israeli soldiers. The need for this was shown starkly after the families of some of those killed during active duty were told they were not entitled to be buried in Jewish cemeteries.
Issues related to Jewish law and religious authority cause particular tensions with those from the former Soviet Union because many had to hide their Jewish identity in the past.
"Though many belong to the Jewish nation, not everybody can actually prove it to the Chief Rabbinate," says Rita Brudnik of Fishka, an organisation for Russian-speakers.
"For many reasons this is difficult: grandmothers' birth certificates are often lost and the communist regime was not tolerant to any manifestations of ethnicity so people tried to blend in and not show their Jewish origins."
Fishka is one of the groups that helped arrange the unorthodox wedding of Inna and Pavel - securing sponsorship and support from local businesses and providing entertainment to draw public attention.
For now, the pair are enjoying looking at the photographs of the fun, special event.
But they worry that if there is no answer to the questions over Inna's Jewish identity, then these will be inherited by their little daughter.