Oman profile - Media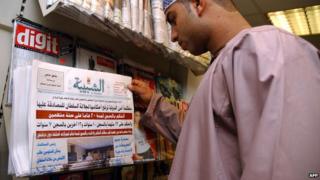 The government operates the main broadcasters and censorship is widespread.
Oman has two state-owned TV stations, and one privately-owned channel.
The use of satellite receivers is permitted, and stations from Saudi Arabia, the UAE and Yemen may be picked up.
The first private radio station launched in 2007. The BBC broadcasts on FM in Salalah, in the south.
There are more than 20 publications, including dailies and weeklies. Private newspapers largely sustain themselves through advertising revenues rather than sales.
The government censors publications for political or cultural reasons. Freedom House said Oman's "Press and Publications Law, one of the most restrictive media laws in the Arab world, ensures that the media remain censored and subdued."
Libel is a criminal offence, and journalists can be fined or imprisoned for criticism of the sultan or material that leads to "public discord, violates the security of the state, or abuses a person's dignity or rights."
Oman has a sophisticated telecommunication infrastructure. There were almost 2.6 million internet users by 2014 (Internetlivestats.com).
Private mobile phone calls, e-mails and chat rooms are monitored. There is extensive filtering of social media, pornography and material about politics and Islam. Many activists have been convicted of posting comments online deemed offensive to the sultan.
The press
Television
Radio
News agency