Syria protests: UN mission to assess humanitarian needs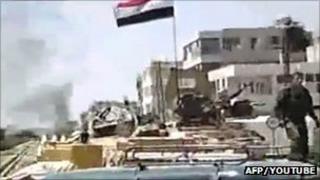 A UN delegation has arrived in Syria to assess humanitarian needs, as security forces continue to suppress anti-government protesters.
The team has been told it can visit all trouble spots, but the BBC's Jim Muir in Beirut says there is some scepticism about how free its movements will be.
Reports of violence continue to emerge, with at least 40 people said to have been killed on Friday.
Syria's anti-government protests first erupted in mid-March.
The demonstrators are demanding the ousting of President Bashar al-Assad, whose family have been in power for 40 years.
On Thursday, the US led unprecedented calls for the president to step down.
Russia rejected the calls, saying Mr Assad should be given more time to enact reforms.
The US also introduced harsh new sanctions, while European officials said they were tightening sanctions on individuals and companies close to the regime, as well as a imposing an embargo on oil and gas products. Most of Syria's oil exports go to Europe.
The president is to give his response to the international pressure in an interview due to be broadcast on state television on Sunday.
The state-run news agency Sana says President Assad will also speak about government reforms and his "future vision" for Syria.
The UN team includes representatives from six agencies, and is expected to stay in Syria until Thursday. Details of its timetable have not been revealed, although it has been given permission to visit centres of protest including Latakia, Homs, Hama, Deraa and others.
It will "assess the humanitarian situation and condition of basic social services, and identify initial assistance needs that could be addressed through a rapid response", a UN spokeswoman said.
'Terrorist groups'
Despite assurances from the president that the army and police operations against civilians had stopped, activists' accounts and internet video postings indicate nothing much has changed.
Activists say most of Friday's deaths were in the southern Deraa province, where the protests first began.
People were also reportedly killed in the central city of Homs and in the suburbs of the capital, Damascus.
Syrian state media gave a different account, saying gunmen had opened fire on worshippers and security forces, killing at least two policemen.
The conflicting accounts are difficult to verify because the Syrian government has banned foreign journalists from the country.
Human rights groups believe that about 2,000 people have been killed and thousands arrested since March. The government has blamed the unrest on "terrorist groups".

Syria's anti-government protests, inspired by events in Tunisia and Egypt, first erupted in mid-March after the arrest of a group of teenagers who spray-painted a revolutionary slogan on a wall. The protests soon spread, and the UN says 3,500 people have died in the turmoil - mainly protestors but also members of Syria's security forces - while thousands more have been injured.
Although the arrest of the teenagers in the southern city of Deraa first prompted people to take to the streets, unrest has since spread to other areas, including Hama, Homs, Latakia, Jisr al-Shughour and Baniyas. Demonstrators are demanding greater freedom, an end to corruption, and, increasingly, the ousting of President Bashar al-Assad.
The government has responded to the protests with overwhelming military force, sending tanks and troops into towns and cities. Amateur video footage shows tanks and snipers firing on unarmed protesters. There may have been an armed element to the uprising from its early days and army deserters have formed the Free Syrian Army.
Some of the bloodiest events have taken place in the northern town of Jisr al-Shughour. In early June, officials claimed 120 security personnel were killed by armed gangs, however protesters said the dead were shot by troops for refusing to kill demonstrators. As the military moved to take control of the town, thousands fled to neighbouring Turkey, taking refuge in camps.
Although the major cities of Damascus and Aleppo have seen pockets of unrest and some protests, it has not been widespread - due partly to a heavy security presence. There have been rallies in the capital - one with an enormous Syrian flag - in support of President Assad, who still receives the backing of many in Syria's middle class, business elite and minority groups.
The Assad family has been in power for 40 years, with Bashar al-Assad inheriting office in 2000. The president has opened up the economy, but has continued to jail critics and control the media. He is from the minority Alawite sect - an offshoot of Shia Islam - but the country's 20 million people are mainly Sunni. The biggest protests have been in Sunni-majority areas.
The uprising has cost 3,500 lives, according to the UN and Jordan's King Abdullah says that President Assad should now step down. The Arab League has suspended Syria's membership and voted for sanctions. The EU has frozen the assets of Syrian officials, placed an arms embargo on Syria and banned imports of its oil. But fears remain of Syria collapsing into civil war.
BACK
{current} of {total}
NEXT