Two killed in Gaza after rocket hits Israel's Beersheba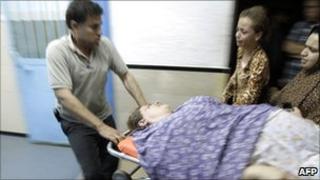 The Israeli military has killed two Palestinians in Gaza Strip, one in an air strike and another as he approached the border fence, officials said.
Air force jets struck four sites in Gaza after Palestinians fired a rocket into the Israeli city of Beersheba.
Palestinian officials said one militant was killed and four people wounded, including a five-year-old boy.
Also on Tuesday, Israeli soldiers shot dead a Palestinian man who entered a designated no-go zone along the border.
Palestinian sources said medics had retrieved the body of an 18-year-old civilian with multiple gunshots to the head and upper body.
An Israeli military spokesman said troops opened fire after the man had approached the buffer zone where militants frequently plant explosive devices.
Recent weeks have seen an increase in mortar and rocket fire from Gaza after months of relative calm.
No injuries were reported in the attack in the southern Israeli city of Beersheba.