Egypt ex-minister Habib al-Adly back in court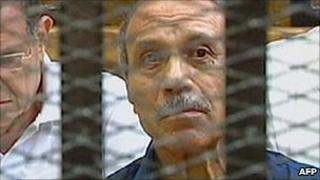 Egypt's former interior minister has reappeared in a Cairo court on charges of killing protesters in the country's uprising.
Habib al-Adly and six former police commanders deny the charges but face the death penalty if convicted.
The hearing is taking place a day before the trial of former President Hosni Mubarak is expected to resume.
As head of Egypt's feared security services, Adly was a hate figure for protesters during the 18-day uprising.
Although he has already been sentenced to 12 years in prison for money-laundering, this trial is being closely watched, says the BBC's Yolande Knell in Cairo.
He and his aides are accused of giving orders that led to the killing of nearly 850 demonstrators.
Evidence wrangle
Sunday's three-hour hearing was turbulent, with the judge suspending proceedings four times.
Lawyers for the families of the alleged victims engaged in long discussions with Judge Ahmed Refaat, demanding that video recordings by the intelligence services be submitted as evidence.
One lawyer argued Adly should be tried alongside Mr Mubarak.
The trial of Adly and his co-defendants was adjourned to 5 September.
The next hearing for the former president is scheduled for Monday.
According to state television, security is already being tightened for the session, which will he held in the same courtroom.
Nile News reports that Mr Mubarak will be transported by helicopter from a military hospital.
He appeared for the first time earlier this month after being dramatically wheeled in on a hospital bed.
He denied involvement in the killing of protesters. He and his sons also pleaded not guilty to corruption.