Syrian security forces 'kill civilians in Homs'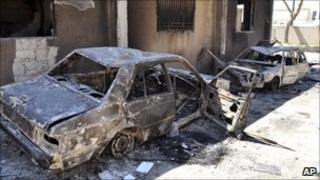 Syrian security forces have reportedly killed 12 civilians, mainly in the province of Homs, as the authorities try to quell protests against President Bashar al-Assad's rule.
Communications and electricity in the western town of Kassir were reported to have been cut off.
Security forces were carrying out mass arrests, opposition activists and residents also said.
The violence came a day after the US imposed new sanctions on Syria.
The state department warned on Thursday Syria would face more US sanctions if its violence against anti-government protests did not stop.
Secretary of State Hillary Clinton called on other governments to take similar measures, saying action by Europe, China and India could have a significant impact on Syria's energy sector.
Amer al-Sadeq, a member of the anti-government Syrian Revolution Co-ordinators' Union, said the military was already seeing defections on a large scale, and that diplomatic sanctions would further strengthen the opposition movement.
"Every day we receive video reports, confirmed ones about army soldiers and officers leaving the army and joining the people after dropping their arms," he told the BBC.
"We can also see that the regime is collapsing in an economic way and if there is a diplomatic sanction against the regime this will help a lot with the economic sanctions."
"This will also help the silent majority take a firmer attitude against the regime and to declare their support more for the peaceful revolution to achieve its goal better."
Call for transition
The increased US pressure has fuelled expectation that the Obama administration would soon formally call for Mr Assad to step down.
The White House has so far stopped short, only going as far as to say that Syria would be a "better place without Assad".
A joint statement from US President Barack Obama and Turkish Prime Minister Recep Tayyip Erdogan after talks on Thursday "reiterated their deep concern about the Syrian government's use of violence against civilians".
"The Syrian people's legitimate demands for a transition to democracy should be met", the statement said.
More than 1,700 people have died and tens of thousands of people have reportedly been arrested since the uprising against the Assad family's 41-year rule began in March.
Mr Assad has reiterated promises of political reform, while remaining adamant his government would continue to pursue the "terrorist groups" he has blamed for the unrest.
Kassir, near the western border with Lebanon, has been stormed by the Syrian army before. But it has kept up its defiance by mounting frequent demonstrations calling for the regime to go, says the BBC's Jim Muir in Beirut.
Activists said there was a heavy hail of gunfire as troops and tanks raided the town. They said that among those killed were a woman and a child.
In the city of Homs, activists said security forces had opened fire with heavy machine guns in the Baba Amr, a day after 18 people were reportedly gunned down there.
'Appeasing Turkey'
Troops and tanks also moved into Saraqeb, near Syria's north-western border with Turkey, with houses raided and many arrests being made, our correspondent adds.
Elsewhere in Syria, there were reports that the army had gained control of the eastern city of Deir al-Zour, close to the Iraq border.
And the BBC's Lina Sinjab in Damascus said many had been wounded and 27 arrested in a crackdown on a sit-in protest by engineers in the southern mainly Druze town of Sweida.
International journalists face severe restrictions reporting in Syria, and it is hard to verify reports.
In recent days, large-scale operations by the army in Deir al-Zour and also the central city of Hama have drawn international condemnation, with Saudi Arabia, Bahrain and Kuwait recalling their ambassadors from Damascus.
The army's much-trumpeted withdrawal from Hama, which the government allowed international media to film on Wednesday, was clearly aimed at appeasing Turkey and other outside powers, says our correspondent in Beirut, Jim Muir.
The new US sanctions announced on Wednesday targeted Syria's main commercial bank and its mobile phone operator.
Under-Secretary for Terrorism and Financial Intelligence David Cohen said the US was "taking aim at the financial infrastructure that is helping provide support to Assad and his regime's illicit activities".

Syria's anti-government protests, inspired by events in Tunisia and Egypt, first erupted in mid-March after the arrest of a group of teenagers who spray-painted a revolutionary slogan on a wall. The protests soon spread, and the UN says 3,500 people have died in the turmoil - mainly protestors but also members of Syria's security forces - while thousands more have been injured.
Although the arrest of the teenagers in the southern city of Deraa first prompted people to take to the streets, unrest has since spread to other areas, including Hama, Homs, Latakia, Jisr al-Shughour and Baniyas. Demonstrators are demanding greater freedom, an end to corruption, and, increasingly, the ousting of President Bashar al-Assad.
The government has responded to the protests with overwhelming military force, sending tanks and troops into towns and cities. Amateur video footage shows tanks and snipers firing on unarmed protesters. There may have been an armed element to the uprising from its early days and army deserters have formed the Free Syrian Army.
Some of the bloodiest events have taken place in the northern town of Jisr al-Shughour. In early June, officials claimed 120 security personnel were killed by armed gangs, however protesters said the dead were shot by troops for refusing to kill demonstrators. As the military moved to take control of the town, thousands fled to neighbouring Turkey, taking refuge in camps.
Although the major cities of Damascus and Aleppo have seen pockets of unrest and some protests, it has not been widespread - due partly to a heavy security presence. There have been rallies in the capital - one with an enormous Syrian flag - in support of President Assad, who still receives the backing of many in Syria's middle class, business elite and minority groups.
The Assad family has been in power for 40 years, with Bashar al-Assad inheriting office in 2000. The president has opened up the economy, but has continued to jail critics and control the media. He is from the minority Alawite sect - an offshoot of Shia Islam - but the country's 20 million people are mainly Sunni. The biggest protests have been in Sunni-majority areas.
The uprising has cost 3,500 lives, according to the UN and Jordan's King Abdullah says that President Assad should now step down. The Arab League has suspended Syria's membership and voted for sanctions. The EU has frozen the assets of Syrian officials, placed an arms embargo on Syria and banned imports of its oil. But fears remain of Syria collapsing into civil war.
BACK
{current} of {total}
NEXT