Bomb 'kills two' in Beirut, Lebanon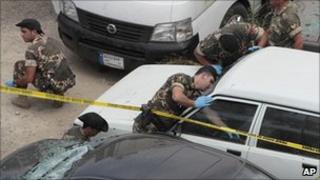 Two people have been killed after a bomb exploded in a car park in the Lebanese capital Beirut, police say.
A third person, a passerby, was injured in the blast, which happened in the busy northern suburb of Antelias.
A car used by the son of a judge was in the car park at the time, but they do not believe it was the target.
Police said the two people killed had been handling the explosives, but it is not clear if they were placing the bomb or trying to get rid of it.
The blast happened at around 11.30 local time and security forces quickly sealed the area and brought in bomb-sniffing dogs, reports say.
Four cars were damaged, including a Nissan registered to Judge Albert Serhan.
Mr Serhan said the car had been used by his son, but he did not believe they were being targeted.
"My son is an engineer and he parks his car in that lot, along with his colleagues, near their office," he told the AFP news agency.
"I have never been threatened nor does anyone in my family dabble in politics."
However, MP Ibrahim Kanaan described the blast as an act of terrorism and said security forces are investigating the incident.
The two men killed were named by police and Lebanese media as Ihsan Dia and Hassan Nassar.
The incident has revived memories of a spate of car bombings targeting anti-Syrian activists between 2004 and 2008.
A massive car bombing in 2005 killed former Prime Minister Rafiq Hariri and 22 others, and sparked a wave of protests that forced Syria to withdraw its troops from Lebanon after 29 years.
But correspondents say that while such explosions are not uncommon in Lebanon, there have been no targeted killings in recent years.