Syrian army 'kills Homs citizens'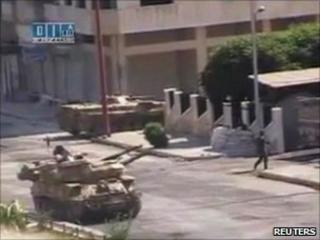 Troops have killed at least 18 people in the Syrian city of Homs, activists say, as the government continues its military efforts to crush dissent.
Activists said the army had fired guns, tanks, and anti-aircraft weapons on residents in the central city.
Syria has not commented on the reports and it is hard for international media to verify such statements.
Meanwhile, the US has ramped up pressure on Syria by imposing sanctions on a bank and mobile phone operator.
"We are taking aim at the financial infrastructure that is helping provide support to [Syrian President Bashar al-] Assad and his regime's illicit activities," said Under-Secretary for Terrorism and Financial Intelligence David Cohen.
In recent weeks, the US has hardened its tone on Syria, says the BBC's Marcus George in Washington. Amid increasing expectation that Mr Obama is to call explicitly on Mr Assad to hand over power, the White House said on Wednesday Syria would be better off without Mr Assad.
"We are all watching with horror at what he is doing to his own people," said White House Press Secretary Jay Carney.
The sanctions on the state-owned Commercial Bank of Syria and Syriatel came amid increasing international pressure over the escalating crackdown, which has reportedly killed more than 1,700 people since the uprising against Mr Assad's regime began in March.
Tens of thousands of people have reportedly been arrested.
The UN Security Council was due to meet on Wednesday evening to debate the crackdown. Last week, it condemned the violence and called for those responsible to be held "accountable".
'Pointing guns'
The Syrian Revolution Co-ordination Union (SRCU), an opposition activist group, said 18 people were killed and more wounded in Wednesday's crackdown in Homs, 165 km (100 miles) north of the capital Damascus.
One activist said security forces had launched a huge operation, arresting people, searching their homes and firing on anyone trying to escape.
"The security forces stole the dead bodies from the streets and fired at a car that was carrying a wounded civilian causing it to stop, after which the tank destroyed the car by running over it," said Syrian activist group the Local Co-ordination Committees (LCC) on its Facebook page.
Turkish Prime Minister Recep Tayyip Erdogan has urged Syria's government to end its operations against civilian demonstrators, saying he hoped Damascus would take steps towards reform within the next two weeks.
"The state is pointing guns at its own people," said Mr Erdogan. "Turkey's message to Assad is very clear: Stop all kinds of violence and bloodshed."
His comments followed discussions on Tuesday between Turkish Foreign Minister Ahmet Davutoglu and Syrian President Bashar al-Assad in Damascus.
While Mr Assad has reiterated promises of political reform, he has said his regime would continue to pursue "terrorist groups".
On Wednesday, activists said tanks and armoured vehicles had also attacked a number of north-western towns and villages, reportedly killing several people.
The London-based Syrian Observatory for Human Rights said one woman was killed and 13 people wounded when tanks entered Taftanaz and Sermin, outside the city of Idlib, about 30km from the Turkish border. The LCC said nearby Binnish was also attacked.
Army pull-out?
The restive central city of Hama was quiet on Wednesday after a week-long operation by the Syrian army that killed dozens of opposition activists.
There were numerous police checkpoints but no visible army presence inside the city, said a BBC correspondent who visited Hama at the invitation of the Syrian authorities.
He saw the remains of barricades set up by opposition activists scattered by the roadside, as well as dozens of armoured personnel carriers and tanks being carried away from the city on trucks.
In recent days large-scale operations by the Syrian army - notably in Hama and Deir al-Zour in the east - have drawn international condemnation.
Egyptian Foreign Minister Mohammed Amr is the latest Arab official to call for an "immediate end" to violence against civilians. Since Saturday, Saudi Arabia, Bahrain and Kuwait have recalled their ambassadors.
But efforts to persuade Syria's government to halt the crackdown have had little effect in the past week, during which more than 300 civilians are believed to have been killed.
The US has been pressing for tougher international sanctions against Damascus. In May, President Barack Obama signed an executive order imposing targeted sanctions on Mr Assad and a number of high-ranking government officials.
The US Treasury's latest sanctions freeze any assets the two cited firms have in the US, and ban American companies from dealing with them.
The Commercial Bank of Syria and an affiliated bank are accused of financing the purchase and production of unconventional weapons programmes, as well as collaborating with a North Korean bank which is implicated in exporting ballistic missile equipment.
Syriatel is cited under a separate order that targets Syrian officials and others responsible for human rights abuses. US officials say its owner, Rami Makhluf - a cousin of President Assad - is one of the regime's most powerful and corrupt insiders.

Syria's anti-government protests, inspired by events in Tunisia and Egypt, first erupted in mid-March after the arrest of a group of teenagers who spray-painted a revolutionary slogan on a wall. The protests soon spread, and the UN says 3,500 people have died in the turmoil - mainly protestors but also members of Syria's security forces - while thousands more have been injured.
Although the arrest of the teenagers in the southern city of Deraa first prompted people to take to the streets, unrest has since spread to other areas, including Hama, Homs, Latakia, Jisr al-Shughour and Baniyas. Demonstrators are demanding greater freedom, an end to corruption, and, increasingly, the ousting of President Bashar al-Assad.
The government has responded to the protests with overwhelming military force, sending tanks and troops into towns and cities. Amateur video footage shows tanks and snipers firing on unarmed protesters. There may have been an armed element to the uprising from its early days and army deserters have formed the Free Syrian Army.
Some of the bloodiest events have taken place in the northern town of Jisr al-Shughour. In early June, officials claimed 120 security personnel were killed by armed gangs, however protesters said the dead were shot by troops for refusing to kill demonstrators. As the military moved to take control of the town, thousands fled to neighbouring Turkey, taking refuge in camps.
Although the major cities of Damascus and Aleppo have seen pockets of unrest and some protests, it has not been widespread - due partly to a heavy security presence. There have been rallies in the capital - one with an enormous Syrian flag - in support of President Assad, who still receives the backing of many in Syria's middle class, business elite and minority groups.
The Assad family has been in power for 40 years, with Bashar al-Assad inheriting office in 2000. The president has opened up the economy, but has continued to jail critics and control the media. He is from the minority Alawite sect - an offshoot of Shia Islam - but the country's 20 million people are mainly Sunni. The biggest protests have been in Sunni-majority areas.
The uprising has cost 3,500 lives, according to the UN and Jordan's King Abdullah says that President Assad should now step down. The Arab League has suspended Syria's membership and voted for sanctions. The EU has frozen the assets of Syrian officials, placed an arms embargo on Syria and banned imports of its oil. But fears remain of Syria collapsing into civil war.
BACK
{current} of {total}
NEXT