Iran names Guards commander Rostam Qasemi oil minister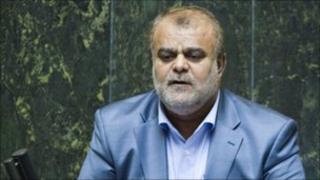 Iran's parliament has approved the appointment of a Revolutionary Guards commander under international sanctions as the country's new oil minister.
Gen Rostam Qasemi, President Mahmoud Ahmadinejad's nominee, was approved by a large majority in the Majlis.
The decision to approve him ends a dispute within the Iranian leadership, which began after the president tried to take charge of the oil ministry.
Gen Qasemi previously led the Guards' engineering wing, Khatam-ol-Anbia.
He was placed on a US sanctions list in January 2010. Five months later, the EU added him to its own list.
Western countries believe the Guards and its affiliates are involved in Iranian efforts to develop nuclear weapons. Tehran denies having any such goal.
Before the vote on his appointment on Wednesday, Majlis Speaker Ali Larijani said a strong show of support for Gen Qasemi would send a signal to Iran's foreign enemies "so [they] do not think that when they impose sanctions parliament will pay any attention".
"If he were an unsuccessful person then his name wouldn't be on the sanctions list," he was quoted as saying by the Reuters news agency.
Deputies subsequently voted 216-22 in favour of Gen Qasemi to become the new head of the oil ministry. Seven abstained and the rest of the 290-member assembly were absent from the session.
Correspondents say the appointment represents a rare victory for President Ahmadinejad, who has been severely criticised by parliament in recent months.
He proposed Gen Qasemi after it became clear that a close ally he had installed as caretaker minister in June, Mohammed Aliabadi, was considered by many deputies to lack experience. The Majlis also vetoed his plan to merge the oil and energy ministries.
Gen Qasemi will take over as Iran holds the rotating presidency of the oil producers' group, Opec.
It was not immediately clear if the EU sanctions would prevent him from travelling to Opec headquarters in Vienna.