Lebanon: UN names Hezbollah men in Rafik Hariri case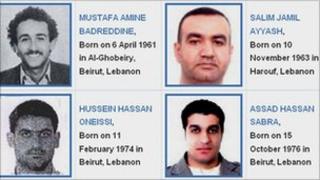 A UN-backed tribunal has released the names of the four indicted suspects in the assassination of the former Lebanese Prime Minister Rafik Hariri.
They are all connected with the Lebanese Shia movement, Hezbollah.
The wanted men are Mustafa Amine Badreddine, a senior Hezbollah figure, Salim Jamil Ayyash, Hussein Hassan Oneissi and Assad Hassan Sabra.
Hezbollah is a key part of the Lebanese government and has said it will not allow the men to be arrested.
Their identities had already been leaked, as had their association with Hezbollah.
The tribunal said it was releasing the information in order to facilitate the arrest of the men.
Pre-trial judge Daniel Fransen ordered the lifting of confidentiality on the names, aliases, biographical information, photographs and charges against the individuals named in the indictment, the tribunal said in a statement.
Following the issue of the arrest warrants, the Lebanese authorities have until 11 August to inform the tribunal of the action they will take in response.
Rafik Hariri and 22 others were killed in February 2005 in central Beirut when a huge bomb went off near his motorcade.
The assassination plunged Lebanon into a series of political crises, killings and bombings that led to sectarian clashes in 2008, dragging the country to the brink of civil war.
Hariri's son, Saad, has welcomed the indictments and described them as a "historic moment" for Lebanon.
However, there are widespread doubts about whether the authorities will act on the indictments and arrest the wanted men, says the BBC's correspondent in Beirut, in view of the influence wielded by Hezbollah in government.
Earlier this month, Hezbollah leader Sayyed Hassan Nasrallah said the authorities would never arrest his members.
He dismissed the accusations as unfounded and a failed attempt to bring down Lebanon's new, Hezbollah-backed government.
"They cannot find them or arrest them in 30 days or 60 days, or in a year, two years, 30 years or 300 years," Nasrallah said at the time.