Mass protests staged again across Syria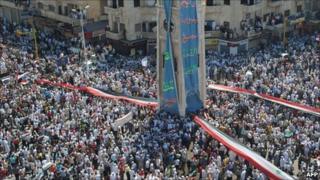 Tens of thousands of Syrians have again turned out for Friday protests against the rule of President Bashar al-Assad.
Troops fired live ammunition and tear gas at protesters, killing two people and wounding dozens, activists said.
There have been reports of fighting in the eastern city of Deir al-Zour between military intelligence agents and residents after five protesters were killed overnight.
Earlier, state media said a blast hit an oil pipeline near the city of Homs.
The attack was the second of its kind this month. State news agency Sana called the explosion a terrorist attack by a group of "saboteurs".
But activists told the BBC they did not have the capability to carry out such an attack.
Ramadan soon
Protest organisers say that this week's demonstrations are aimed at other Arab countries under the slogan, "Your silence is killing us".
Human rights groups said that troops opened fire on protesters in the Mediterranean city of Latakia, killing at least one protester and that another person was killed during a protest in the southern city of Deraa - where the protests first erupted in mid-March.
Heavily armed troops backed by armoured vehicles pushed back protesters in the coastal town of Baniyas and fired tear gas in several other locations, the AP news agency said, citing local activists. There were also marches in the countryside around Damascus despite an intense crackdown there, it added.
The reports are difficult to verify as few foreign reporters have been allowed into the country.
Syrian forces are trying to quell the unrest ahead of Ramadan, which starts this weekend, activists say.
Last night, security forces shot dead three civilians in Deir al-Zour and two in a Damascus suburb, near the town of Zabadani, according to the Syrian Observatory for Human Rights.
The demonstrations have been met by a fierce crackdown that has killed more than 1,500 civilians and seen 26,000 people arrested.
More than 12,600 are still in detention, the Avaaz rights group says, and 3,000 others are missing, with family members unable to establish if they are still alive.
Pipeline blast
The governor of Homs, Syria's third largest city, said many residents heard the pipeline explosion at around 0400 (0100 GMT).
"This terrorist operation, a subversive operation of the highest order, took place in a farming area, causing extensive damage," Ghassan al-Adel told Sana.
The blast left a crater 15m (50ft) wide and oil gushing from the broken pipe, the Sana news agency said.
Two weeks ago, on 13 July, a fire damaged a gas pipeline near the town of Mayadin in the country's main oil and gas-producing region of Deir al-Zour province, activists said at the time.
Oil production in Syria stands at about 350,000 barrels per day, according to official data. It is a key source of income for the Syrian economy, hard hit by more than four months of unrest.

Syria's anti-government protests, inspired by events in Tunisia and Egypt, first erupted in mid-March after the arrest of a group of teenagers who spray-painted a revolutionary slogan on a wall. The protests soon spread, and the UN says 3,500 people have died in the turmoil - mainly protestors but also members of Syria's security forces - while thousands more have been injured.
Although the arrest of the teenagers in the southern city of Deraa first prompted people to take to the streets, unrest has since spread to other areas, including Hama, Homs, Latakia, Jisr al-Shughour and Baniyas. Demonstrators are demanding greater freedom, an end to corruption, and, increasingly, the ousting of President Bashar al-Assad.
The government has responded to the protests with overwhelming military force, sending tanks and troops into towns and cities. Amateur video footage shows tanks and snipers firing on unarmed protesters. There may have been an armed element to the uprising from its early days and army deserters have formed the Free Syrian Army.
Some of the bloodiest events have taken place in the northern town of Jisr al-Shughour. In early June, officials claimed 120 security personnel were killed by armed gangs, however protesters said the dead were shot by troops for refusing to kill demonstrators. As the military moved to take control of the town, thousands fled to neighbouring Turkey, taking refuge in camps.
Although the major cities of Damascus and Aleppo have seen pockets of unrest and some protests, it has not been widespread - due partly to a heavy security presence. There have been rallies in the capital - one with an enormous Syrian flag - in support of President Assad, who still receives the backing of many in Syria's middle class, business elite and minority groups.
The Assad family has been in power for 40 years, with Bashar al-Assad inheriting office in 2000. The president has opened up the economy, but has continued to jail critics and control the media. He is from the minority Alawite sect - an offshoot of Shia Islam - but the country's 20 million people are mainly Sunni. The biggest protests have been in Sunni-majority areas.
The uprising has cost 3,500 lives, according to the UN and Jordan's King Abdullah says that President Assad should now step down. The Arab League has suspended Syria's membership and voted for sanctions. The EU has frozen the assets of Syrian officials, placed an arms embargo on Syria and banned imports of its oil. But fears remain of Syria collapsing into civil war.
BACK
{current} of {total}
NEXT