Egypt revolution: Hosni Mubarak to go on trial in Cairo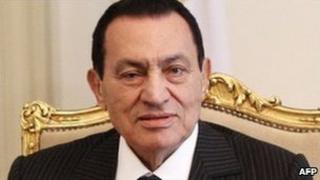 Egypt's deposed President Hosni Mubarak will be put on trial next week in the capital, Cairo, state media say.
Mr Mubarak, 83, has been under arrest at a hospital in the coastal resort town of Sharm el-Sheikh since April.
Earlier on Thursday, Egypt's health minister said Mr Mubarak was healthy enough to be moved to the capital.
Mr Mubarak, who ruled for three decades, is charged with corruption and ordering the killing of protesters before he was toppled in February.
Reports about the poor state of Mr Mubarak's health had led to speculation that his trial would be postponed or held in Sharm el-Sheikh.
Death penalty
The trial is due to begin on 3 August.
Mr Mubarak will be tried alongside his two sons, Alaa and Gamal, and former Interior Minister Habib al-Adly, who are being detained in Cairo, the official news agency cited a justice official as saying. Six senior police officials will also go on trial.
"It has been decided that the trial of ex-president Hosni Mubarak and his two sons Alaa and Gamal... will be held in the building of the General Authority for Investment and the free trade areas in the Cairo Expo grounds," it quoted the official, Mohammed Manei, as saying.
Adly has already been sentenced to 12 years in jail for corruption.
Mr Mubarak is accused of ordering his forces to shoot anti-government demonstrators during the country's uprising, abuse of office and embezzling funds.
Mr Manei, an assistant to the justice minister, said Mr Mubarak faced being executed if found guilty of the first charge, according to AP news agency.
He said chairs were being fitted for the expected audience and an "unprecedented security plan" would be put in place.
A cage for the defendants will also be installed, Mr Manei told the news agency.
Health Minister Amr Helmy told reporters that Mr Mubarak's health was "in an appropriate condition to be tried in Cairo".
'Damage tourism'
Earlier this week, doctors said Mr Mubarak's condition was poor and that he had been refusing food.
The head of the hospital said Mr Mubarak was depressed, had lost weight and was not eating enough to keep him alive, Mena news agency reported.
But opposition supporters, who have been demanding his transfer to Cairo, have accused the authorities of using his illness as a ploy to delay the trial.
The BBC's Jon Leyne says the decision will delight protesters, and relatives of those killed in the revolution earlier this year.
But, he says, they will remain sceptical until they see Hosni Mubarak in the dock.
Tourism Minister Munir Fakhri Abdel Nur welcomed the latest announcement, saying he had been concerned about the possible damage to Sharm el-Sheikh, one of the country's top tourist attractions, had the trial been held there.
"I asked them [the authorities] to stay away from Sharm el-Sheikh. It seems that they have followed my advice," he told AFP.
He said the trial and any protests outside the court house would have "disturbed the small city", according to the news agency.
Mr Mubarak was ousted on 11 February, after 18 days of mass demonstrations in which some 850 people were killed.