Iraq: Tikrit city hit by deadly twin bombings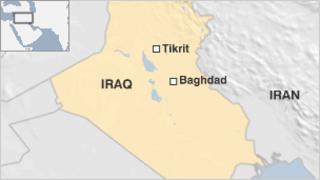 At least 12 people have been killed and 28 injured in a double bomb blast outside a bank in the Iraqi city of Tikrit, officials say.
A car bomb exploded outside the Rafidain bank in the city centre and soon after a suicide bomber blew himself up, they say.
A number of police and soldiers are reported to be among those killed.
Tikrit is the hometown of the former Iraqi leader, Saddam Hussein, and still the scene of frequent attacks.
On 6 June, at least 21 people were killed in twin bomb attacks, one on a mosque, in the northern city.
And on 3 June, another twin attack targeted a mosque and a hospital, leaving 21 people dead.
Violence in Iraq has fallen sharply from its peak in 2006, but deadly attacks still occur on a daily basis.
June was reported to be the deadliest month so far this year for the number of Iraqis killed, and the bloodiest in three years for US forces, who lost 14 soldiers in attacks.