Egypt's Hosni Mubarak is 'depressed and refusing food'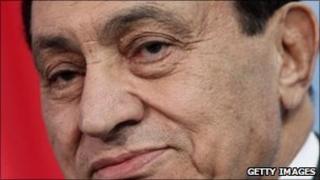 Egypt's ex-President Hosni Mubarak is weak and refusing solid food, according to the country's official news agency.
He is due to stand trial in a week, accused of corruption and ordering the killing of protesters.
The head of the hospital where Mr Mubarak is detained in Sharm al-Sheikh said he was depressed, has lost weight, and was not eating enough to keep him alive, MENA agency reports.
But critics see Mr Mubarak's illness as a ploy to avoid going on trial.
Opposition supporters are sceptical about the reports. They believe the authorities are just looking for a way to put off the start of the former leader's trial, scheduled for next week.
The latest of many reports on Mr Mubarak's health said his doctors would decide in the coming hours how to proceed, as his current food intake was not enough to keep him alive.
There does now seem to be growing evidence that he is an increasingly enfeebled old man, says the BBC's Cairo correspondent, Jon Leyne.
Mr Mubarak was overthrown in February in a popular uprising during which more than 840 people died.