Hamas executes Palestinians convicted of collaboration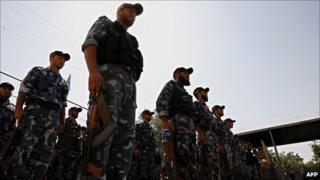 The Hamas authorities in the Gaza Strip have executed two men who were convicted of collaboration with Israel.
A statement from the interior ministry in the Palestinian territory did not say how the men were killed.
Angry family members of one of the executed men burned tyres and blocked a road in protest, the Associated Press news agency reported.
In May, a military court in Gaza sentenced a man to death by firing squad for collaborating with Israel.
Hamas governs the Gaza Strip. It won parliamentary elections in the Palestinian territories in 2006, but seized sole control of Gaza the following year.
The Islamist movement is considered a terrorist group by Israel, the United States and the European Union.
'Appeals exhausted'
Under Palestinian law, collaboration with Israel, murder, and drug trafficking are all punishable by death.
All executions must be approved by the Palestinian president, but Hamas no longer recognises the legitimacy of Mahmoud Abbas, whose four-year term ended in 2009.
An interior ministry statement said: "The sentence was carried out after all appeals were exhausted. The execution came after the government approved the decision to implement the penalty imposed on agents who collaborate with the Israeli occupation."
The executed men were not named.
The Reuters agency reported that they were father and son. The agency quoted Hamas officials as saying that they had confessed to providing Israeli forces with intelligence that helped them track down Palestinians including a Hamas leader, Abdel-Aziz al-Rantissi, who was killed in 2004 by an Israeli air strike on his car.
The Palestinian Centre for Human Rights (PCHR) condemned the executions, saying there was no legal justification for the failure to seek Mr Abbas's ratification of the sentences.
The group said the two men were hanged early on Tuesday morning, and gave their ages as 60 and 29.
The PCHR says the Hamas authorities in Gaza have executed five people for spying since seizing control of the coastal area in 2007
Another 17 alleged collaborators were killed in vigilante-style shootings by Palestinians during the three-week Israeli offensive in Gaza that ended in January 2009, the group says.
It is a common practice of Israeli security forces to pay Palestinian informers to gather intelligence.