Yemen: Car bomb blast kills soldiers in Aden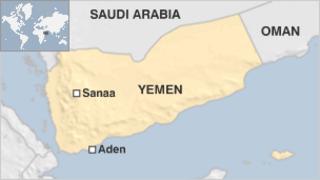 A car bomb blast has killed at least five Yemeni soldiers in the coastal city of Aden, officials say.
Several others were injured in the blast which hit as troops with supplies were preparing to leave for the nearby province of Abyan.
Officials said they were being sent to fight al-Qaeda linked militants.
Yemen has been plagued by political unrest for months, including clashes in the south between security forces and Islamist militants.
Aden, the strategic southern port city, has remained generally calm despite unrest in neighbouring southern provinces.
Opposition parties in Yemen have been trying to prevent the return of President Ali Abdullah Saleh from Saudi Arabia, where he has been recovering from wounds sustained in an attack on his presidential palace in June.
US and Yemeni officials have repeatedly expressed concern that al-Qaeda linked militants have been taking advantage of a power vacuum in Sanaa to expand their operations.
Protesters have been calling for the ousting of the veteran president in mass street protests since January.