Syrian uprising: Crackdown on Homs 'intensifies'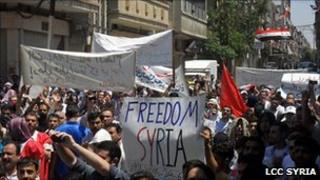 Syrian forces have been stepping up a major operation against anti-government protesters in Homs, the country's third biggest city, activists say.
Residents report heavy gunfire and one activist said at least two people had been killed in the latest army raids.
About 50 people have been reported dead over the past few days. The Syrian authorities said soldiers came under machine-gun fire and grenade attack.
Some of the violence is reportedly between Sunni and Alawite communities.
Both the government and opposition accuse each other of encouraging sectarian violence.
The latest violence is part of a crackdown on the four-month uprising in the country, calling for President Bashar al-Assad to step down.
The government says it is committed to a programme of reforms. But opposition forces and Western powers say Mr Assad has lost his legitimacy as a result of the brutal crackdown that has claimed more than 1,470 civilian lives and left another 350 soldiers dead.
The government blames the unrest on "terrorists and armed criminal gangs" backed by a foreign conspiracy.
'Fingerprint of loyalty'
The protesters and security forces in Homs are locked in a protracted and violent battle of wills, the BBC's Owen Bennett Jones reports from Beirut, in neighbouring Lebanon.
International journalists have been denied access to Syria, making it difficult to verify reports.
But for days now, residents have been saying that they are frightened and stuck in their homes listening to gunfire outside, our correspondent says.
Some say they are too afraid to even look out of their windows.
On the streets, there are checkpoints and a heavy security presence as the authorities seek to arrest protest organisers. Hospitals have appealed for blood donors to help treat the wounded.
Sana, the Syrian official news agency, has given its version of events in Homs, carrying interviews with injured soldiers who said they came under attack from armed groups who used machine guns and heavy weapons.
Sana said 40 people - 32 security force members and eight civilians - were wounded by gunfire in two neighbourhoods of Homs.
"The army units interfered and sealed off the region to hunt the terrorist groups who attacked civilians, broke off roads in those neighbourhoods and terrified the citizens," it said.
Elsewhere in the country, it said there had been several pro-government rallies on Thursday, with thousands turning out for a festival in Damascus entitled "fingerprint of loyalty to the homeland".
The opposition, meanwhile, remains defiant. They have said that this Friday's protests will have the slogan "in honour of national unity".
The Assad family has ruled Syria for more than four decades with Bashar and his father, Hafez, before him, running one of the most authoritarian regimes in the Middle East.
The uprising, which kicked off in mid-March, poses the gravest threat the Assad dynasty has ever faced.

Syria's anti-government protests, inspired by events in Tunisia and Egypt, first erupted in mid-March after the arrest of a group of teenagers who spray-painted a revolutionary slogan on a wall. The protests soon spread, and the UN says 3,500 people have died in the turmoil - mainly protestors but also members of Syria's security forces - while thousands more have been injured.
Although the arrest of the teenagers in the southern city of Deraa first prompted people to take to the streets, unrest has since spread to other areas, including Hama, Homs, Latakia, Jisr al-Shughour and Baniyas. Demonstrators are demanding greater freedom, an end to corruption, and, increasingly, the ousting of President Bashar al-Assad.
The government has responded to the protests with overwhelming military force, sending tanks and troops into towns and cities. Amateur video footage shows tanks and snipers firing on unarmed protesters. There may have been an armed element to the uprising from its early days and army deserters have formed the Free Syrian Army.
Some of the bloodiest events have taken place in the northern town of Jisr al-Shughour. In early June, officials claimed 120 security personnel were killed by armed gangs, however protesters said the dead were shot by troops for refusing to kill demonstrators. As the military moved to take control of the town, thousands fled to neighbouring Turkey, taking refuge in camps.
Although the major cities of Damascus and Aleppo have seen pockets of unrest and some protests, it has not been widespread - due partly to a heavy security presence. There have been rallies in the capital - one with an enormous Syrian flag - in support of President Assad, who still receives the backing of many in Syria's middle class, business elite and minority groups.
The Assad family has been in power for 40 years, with Bashar al-Assad inheriting office in 2000. The president has opened up the economy, but has continued to jail critics and control the media. He is from the minority Alawite sect - an offshoot of Shia Islam - but the country's 20 million people are mainly Sunni. The biggest protests have been in Sunni-majority areas.
The uprising has cost 3,500 lives, according to the UN and Jordan's King Abdullah says that President Assad should now step down. The Arab League has suspended Syria's membership and voted for sanctions. The EU has frozen the assets of Syrian officials, placed an arms embargo on Syria and banned imports of its oil. But fears remain of Syria collapsing into civil war.
BACK
{current} of {total}
NEXT