Israeli army kills man in Nablus, hits Gaza targets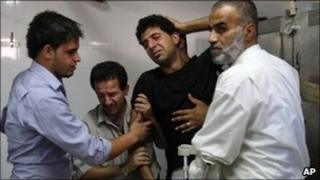 A Palestinian man has been killed in an Israeli military raid on a West Bank refugee camp.
The Israeli military said troops fired at a man who tried to evade arrest in the el-Fara camp north of Nablus.
But a witness said residents had thrown stones at the troops, who responded with live fire, killing 21-year-old university student Ibrahim Sarhan.
In Gaza, Israeli aircraft struck two suspected weapons factories overnight, injuring a Palestinian woman.
The air strikes also damaged the main water pipe in an eastern neighbourhood of Gaza City, cutting water to a large part of the city, said Gaza's emergency services spokesman Adham Abu Selmiya.
Israel's military said the air strikes came in retaliation for rockets fired from Gaza into Israel on Tuesday.
Another rocket hit southern Israel on Wednesday morning, Israel's military said, but no-one was hurt in the attacks.
'Bled to death'
Omar Sarhan said his son was shot after attending morning prayers in a local mosque, and bled to death because no ambulance was allowed to attend to him.
The 21-year-old had been shot twice, once in each thigh, and was dead by the time he reached hospital, Palestinian medics said.
Israel's military said the dawn raid was part of "routine activity" at the refugee camp.
"One of the Palestinians tried to flee arrest, at which point the soldiers began an arrest procedure, eventually firing at his lower body," a spokeswoman told the AFP news agency.
Seven Palestinians were arrested during the raid, the spokeswoman said, adding that an explosive device was hurled at Israeli troops during the operation. No soldiers were injured.
The Israeli army often carries out raids in Palestinian town and cities, some of which are coordinated with Palestinian police, says the BBC's Jon Donnison from Ramallah.
The West Bank has been under Israeli military occupation since 1967.